Does onion work as a nasal decongestant in cold?
Not really. There is no scientific research that proves that keeping sliced onion near you while sleeping will clear nasal congestion. Any claims of effectiveness of this are based on anecdotes rather than research.
Quick Take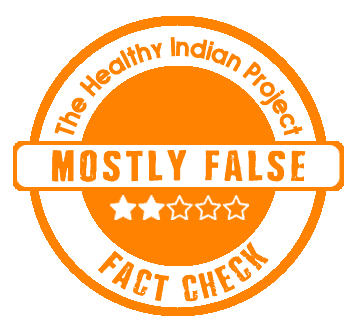 A social media user claim that if you have nose congestion, you can clear it by leaving a sliced onion near where you sleep and letting it sit for the night. We fact-checked and found the claim to be Mostly False. 
The Claim
A Facebook post with the caption, "Stuffy nose? Try this onion hack," reads, "Is your nose so congested that you are not able to breathe properly? Leave a sliced onion near where you sleep and let it sit for the night. Your nose will be clear by the time you wake up."
Fact Check
Why common cold and flu happen?
As per CDC, "Influenza (flu) and the common cold are both contagious respiratory illnesses, but they are caused by different viruses." Where flu is caused by influenza viruses, the common cold can be caused by a number of different viruses, including rhinoviruses, parainfluenza, and seasonal coronaviruses.
What are the ways to treat nasal congestion?
Nasal congestion can occur for various reasons, such as cold, allergy, or flu. It can be treated at home with various remedies. These include using a humidifier or vaporizer, nasal saline spray, nasal irrigator, warm compression or steam inhalation. If these don't work, one can use certain decongestants, which come in the form of nasal sprays or pills.
Common decongestant nasal sprays are oxymetazoline and phenylephrine. Pseudoephedrine is a common decongestant pill. If the congestion is due to an allergy, the doctor may prescribe you an antihistamine or antiallergy medication.
Can you decongest your nose by placing an onion near you?
Not exactly. Until now, there have not been any scientific studies that researched this specifically. Various online sources which claim that you can decongest your nose by sleeping near an onion do not cite any scientific evidence. Any claims of effectiveness of this are based on anecdotes rather than research.
A 2002 review states the health benefits of onions due to the presence of sulphuric compound, but, this doesn't prove the effectiveness of onion as a nasal decongestant.
The health benefits of keeping onion around is based on aromatherapy, which is a growing evidence-based practice where stimulation of smell receptors assists healing. However, research on this matter is scant.
Voomika Mukherjee, Health & Nutrition Life Coach, says, "Cold generally happens when a virus causes inflammation into your throat and nose membranes. A stronger immunity can somehow protect you against this. So, instead of believing unproven, unscientific claims, it is better to eat onions. Onion contains dozens of medicinal chemical compounds that have antibacterial and anti-inflammatory actions in the body. The sulphur compounds in onions also have a powerful antibacterial and antiviral action."
THIP Media has already busted similar claims, such as you can reduce fever by massaging onion on feet and putting onion in socks can cure cold and flu.
Disclaimer: Medical Science is an ever evolving field. We strive to keep this page updated. In case you notice any discrepancy in the content, please inform us at [email protected]. You can futher read our Correction Policy here. Never disregard professional medical advice or delay seeking medical treatment because of something you have read on or accessed through this website or it's social media channels. Read our Full Disclaimer Here for further information.