Quick Take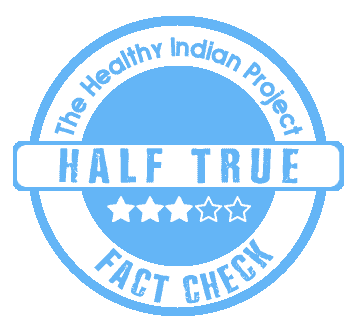 A review published on a website claims that face masks are ineffective at reducing the spread of SARS-CoV-2 and other respiratory infections. We fact-checked and found this claim to be Half True.
The Claim
A review published by the Cochrane Library on 30 January 2023 claims that face masks are ineffective at reducing the spread of SARS-CoV-2 and other respiratory infections. It concluded by stating, "This large group of international researchers reviewed dozens of rigorously correct, randomized clinical trials of "physical interventions" against respiratory diseases. These diseases included influenza and COVID-19 during the pandemic, and these researchers failed to find even a "modest effect" on infection or illness rates from any type of mask." Several social media posts refer the study and claim that face masks are ineffective.
Fact Check
Are face masks not effective in preventing infections, such as COVID-19?
Not exactly. Facemasks serve as a physical barrier that can prevent infection or illness by obstructing respiratory droplets that may contain infectious agents like the SARS-CoV-2 virus responsible for causing COVID-19. When an infected person talks, coughs, or sneezes, respiratory droplets are released into the air, which can be inhaled by others, leading to the risk of infection.
By wearing a facemask, respiratory droplets are trapped within the mask, minimizing the number of droplets released into the air. This helps to safeguard both the wearer and the people in their vicinity from the possibility of infection.
Moreover, facemasks can also offer some protection to the wearer by decreasing the amount of infectious droplets they may inhale from others.
Dr. Neha Rastogi Panda, Senior Infectious Diseases Specialist, Fortis Hospital Gurgaon, clarifies this by stating, "The claim is not entirely true. There has been data and evidence that masks are important and essential components of barrier and airborne precautions one has to take to avoid droplet and aerosol-producing infections – viral and bacterial. Type of mask, fitting, and other steps like social distancing and hand hygiene are also determinants and limiting factors in addressing the efficacy of one of the components.
With trials and Cochrane review elucidating the mask's role, robust data is required to prove/ disprove effectiveness, but it's true that wearing a mask is an essential public health tool and CDC-proven strategy to reduce risk of human-to-human transmission to a considerable level."
CDC states, "Masking is a critical public health tool for preventing the spread of COVID-19." It is worth noting that face masks are able to reduce airborne transmission and not nullify it.
Did the Cochrane review prove that masks are ineffective?
Not exactly. Face masks reduce the risk of spreading COVID, despite a review saying they don't.
Firstly, the review only clustered the results of various RCTs (Randomised Controlled Trials); but, RCTs are considered to be the undisputed gold standard for certain kinds of questions. For other questions, a mix of study designs is better. Moreover, the review mentioned in the claim doesn't show that masks definitely do not reduce the spread of COVID—only that studies to date have not proven that they do. We need more studies and randomized trials to prove their effectiveness or ineffectiveness. Major studies till now prove that they are beneficial due to the simple fact that masks prove a barrier to airborne infections.
Moreover, the effectiveness of face masks depends on several factors, such as the type of mask, how well it fits, and how it is worn. The review noted that the evidence on the effectiveness of face masks in reducing the spread of COVID-19 was limited and of low certainty, and more research was needed. Therefore, the claim stands mostly false until proven otherwise.
Are Facemasks beneficial in preventing the spread of COVID?
Mostly yes. Facemasks are beneficial in preventing the spread of COVID-19. Facemasks act as a physical barrier that can help prevent the spread of respiratory droplets. COVID-19 is mainly transmitted through respiratory particles, which makes it essential to take two measures to reduce its spread. Firstly, we need to limit contact with infected individuals through physical distancing and other precautionary measures. Secondly, we need to reduce the probability of transmission per contact. According to current evidence, wearing a mask can significantly reduce the transmission probability per contact by preventing the spread of infected respiratory particles. Also, a report by the Office of National Statistics in the United Kingdom published on September 2021 report shows that people who never wore masks or felt they weren't needed in enclosed spaces were more than 1.5 times more likely to test positive for COVID.
The Centers for Disease Control and Prevention also recommends the use of mask by stating, "Wear a Mask to Protect Yourself and Others."
According to the WHO, "Masks should be used as part of a comprehensive strategy of measures to suppress transmission and save lives; the use of a mask alone is not sufficient to provide an adequate level of protection against COVID-19."
Other preventive measures such as social distancing, hand hygiene, and vaccination are also crucial in controlling the spread of the virus.
Disclaimer: Medical Science is an ever evolving field. We strive to keep this page updated. In case you notice any discrepancy in the content, please inform us at [email protected]. You can futher read our Correction Policy here. Never disregard professional medical advice or delay seeking medical treatment because of something you have read on or accessed through this website or it's social media channels. Read our Full Disclaimer Here for further information.