Quick Take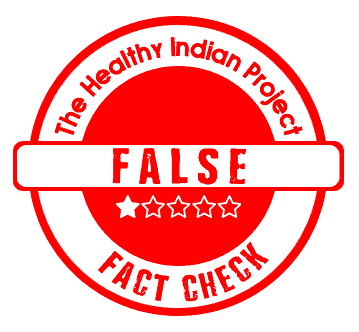 A number of health blogs and social media posts suggest that putting a onion inside your socks or keeping it in touch with your feet will cure cold and flu. We fact-check and found that the claim is false.
The Claim
"Putting an onion in your sock before going to bed can help you get rid of a cold much quicker. Onions will help you feel better because of their amazing healing properties. Onions are known for absorbing smells and improving air quality. By putting an onion in your sock before you go to sleep, bacteria will be absorbed by the onion and your blood will be cleansed…," reads a health blog post. Such a post can be seen here and a screenshot is given below.
Fact Check
Why common cold and flu happen?
As per CDC, "Influenza (flu) and the common cold are both contagious respiratory illnesses, but they are caused by different viruses. Flu is caused by influenza viruses only, whereas the common cold can be caused by a number of different viruses, including rhinoviruses, parainfluenza, and seasonal coronaviruses."
Can keeping an Onion in your socks cure cold and flu?
No. There is no medical evidence of such a claim. Also, keeping an onion in touch with the skin of the feet cannot have any effect on the viruses affecting the respiratory tract.
Onions are found to be rich in sulphuric compounds but there is no particular evidence about benefits of putting them in socks. The National Onion Association also mentions that old myths about Onions in Socks can prevent bubonic plague had been prevalent since ages but have no scientific evidence.
Many posts that claim the benefit of Onion in Socks relate this to an alternative medicine practice of Reflexology. There is very limited research to study the benefits of reflexology on diseases like Cold and Flu. However, medical studies have failed to find benefits of reflexology in treating any medical conditions.
Voomika Mukherjee, Health & Nutrition Life Coach, says, "Cold generally happens when a virus causes inflammation into your throat and nose membranes. A stronger immunity can somehow protect you against this. So, instead of believing unproven, unscientific claims like putting Onions inside socks, it is better to eat Onions. Onion contains dozens of medicinal chemical compounds that have antibacterial and anti-inflammatory actions in the body. The sulphur compounds in onions also have a powerful antibacterial and antiviral action. But putting Onion in the socks is not going to help anyway in fighting cold."
Disclaimer: Medical Science is an ever evolving field. We strive to keep this page updated. In case you notice any discrepancy in the content, please inform us at [email protected]. You can futher read our Correction Policy here. Never disregard professional medical advice or delay seeking medical treatment because of something you have read on or accessed through this website or it's social media channels. Read our Full Disclaimer Here for further information.