Can potato help in curing flu and cough?
Not really. Potatoes are beneficial for human body but there is no scientific evidence to support the claim that putting sliced potatoes in socks can cure flu or cough. The treatment of cough and flu depends upon the cause of the health condition. It is always advisable to consult the expert to know the right treatment.
Quick Take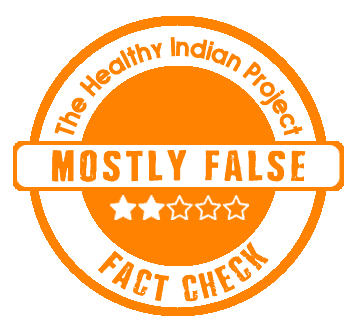 A social media post claims that cold and flu can be treated if one puts cut pieces of potato in socks as it absorbs toxins from the body. We fact-checked and found this claim to be Mostly False.
The Claim
In an Instagram post, a woman says, "Unless you've been living under the rock, you must have heard about the potato in your sock hack," and further demonstrates how the potato changes its colour and makes her kids better.
The caption of the post reads, "WHAT IS THIS WITCHCRAFT?!? Seriously, have you tried this before??? I'd love to hear your outcome and if it matched ours or was a total bust! According to the super reliable source that is social media, they say this works best for the flu or any virus/cough! Worth a try?!?"
Fact Check
What is cough?
Cough, also known as tussis, is a natural reflex of the body to remove irritants, such as foreign particles, fluids, mucus, microbes, etc., from the throat and breathing passage through rapid expulsion of air from the lungs. 
How is cough treated?
An acute cough is usually self‐limiting and rarely needs significant medical intervention. But, in most cases, chronic cough needs medical intervention as it is a crucial symptom of various chronic respiratory diseases. The treatment of cough is dependent on its cause. If a person is suffering from an infection, then an antiviral or an antibiotic medication is prescribed. Similarly, it is suggested to stay away from irritants in cases of irritant-induced cough. Researchers state that, at present, no effective treatments are controlling the cough response per se with an acceptable therapeutic ratio. However, various cough suppressants or antitussives can aid in relieving the symptoms. Other than this, hot beverages, honey, fluid consumption, certain herbs, etc., have been seen to be effective in treating cough.
What is flu?
Flu or influenza is an acute respiratory infection caused by influenza viruses. There are four types of seasonal influenza viruses, namely, types A, B, C and D. The flu symptoms include fever, chills, headache, persistent and dry cough, muscle and joint pain, severe malaise, sore throat and a runny nose.
What is the treatment of flu?
The treatment of flu is dependent on the severity of the disease. According to the WHO, patients that are not from a high-risk group are usually managed with symptomatic treatment. For example, if the patient gets a fever, an antipyretic drug is given. Also, patients with influenza are advised to stay home to minimize the risk of spread.
In cases of severe or progressive clinical illness, flu antiviral drugs such as neuraminidase inhibitors, etc. and corticosteroids are prescribed. Other than this, rest and plenty of fluids are advised.
Can you treat flu and cough by wearing socks with potatoes?
No. There is no evidence from scientific studies or clinical trials that prove that wearing potatoes in socks is effective in curing flu and cough. Potatoes (scientifically called Solanum tuberosum L) indeed have health benefits as it contains vitamins, minerals and dietary fibre as well as phytochemicals. They benefit the human body as supplementary nutrients and antioxidants. They are rich in carbohydrates and are energy-providing food with little fat. Because of their nutritional value, the consumption of potatoes can help strengthen the immune system and help in dealing with colds and flu. However, there is no proof that the placement of potatoes on feet externally will transfer their benefits to the skin. Moreover, the Food and Drug Administration (FDA) does not list potatoes as a cure for the flu or cough among its "authorized health claims." 
Also, even though it is uncommon, there are children or other patients who can even experience potato allergy and experience symptoms such as red, itchy skin, rhinitis, itchy or stinging eyes, a runny or stuffy nose, and sneezing. Therefore, one should not opt for such remedies. Hence, the claim stands false until proven otherwise. 
Dr. Kashyap Dakshini, General Physician, comments on this by stating, "There is no documented scientific evidence to support the benefits of sliced potato in curing cough, cold and flu."
Disclaimer: Medical Science is an ever evolving field. We strive to keep this page updated. In case you notice any discrepancy in the content, please inform us at [email protected]. You can futher read our Correction Policy here. Never disregard professional medical advice or delay seeking medical treatment because of something you have read on or accessed through this website or it's social media channels. Read our Full Disclaimer Here for further information.