Quick Take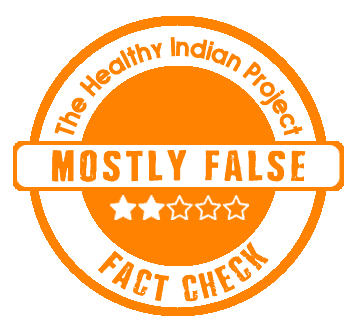 A short video on social media claims that acupressure exercise cures common cold. We fact-checked and found the claim to be Mostly False. Complementary treatment procedures like acupressure may reduce the severity of the condition but does not seem to cure the condition completely. 
The Claim 
A short video on YouTube shows a woman performing some exercise claiming acupressure can cure common cold. 
The claimant of the video is Healthy Food Tales at Ravneet Bhalla who has 18.4K subscribers. The YouTube video has received 12k likes till we last checked. 
Fact Check
What causes common cold?
Common cold is caused by many types of viruses; rhinoviruses are the most common cause. The virus enters the human body through one's mouth, eyes or nose. The virus then spreads through droplets in the air when someone who is sick coughs, sneezes or talks.
What is acupressure?
Acupressure is a type of complementary treatment procedure used to remove immune ailments to emotional disorders. This treatment relieves diverse pains and manages multiple symptoms among different people.
Evidence also suggest that acupressure encourages blood flow and reduces bodily tension to reduce stress and severity of body's reaction to a harmful toxin. Also, acupressure improves mental state. This may help people feel better when suffering from cold. 
Can acupressure cure common cold?
Not exactly. No evidence shows how acupressure procedures fight the viruses that cause common cold. A review published in 2010 informs that the effectiveness of acupressure against common cold is currently not well documented. This conclusion is in sharp contrast to claim made in the YouTube video.
However, in case of allergic rhinitis, a condition that also make people sneeze, acupressure exercise on the face can help. A research paper published in 2010 shows that common cold is a viral infection. But allergic rhinitis is a reaction by immune system to an allergic trigger. The symptoms of allergic rhinitis begins immediately upon exposure to a trigger. But common cold symptoms often starts after 2-3 days of viral exposure.
A few research papers have shown that acupressure can relieve irritated sinus gland on the face to relieve allergic rhinitis. Even Dr Raman Kapur, MBBS, MD (Medicine Alternativa), informed that, "Acupuncture is very effective in the treatment of allergic rhinitis. In most of these patients, the immune system is compromised and we need to buildup the immunity of the patient. There are specific acupuncture points on which needling is done to improve the immunity. Some local points are also used along the nose for giving symptomatic improvement."
However, no evidence proves acupressure cures common cold.
In another fact-check 'common cold is a cure but not an illness' we have shown that there exist no cure for common cold. The condition is caused by different viruses, so it is difficult to develop a single drug to fight all these viruses.
Disclaimer: Medical Science is an ever evolving field. We strive to keep this page updated. In case you notice any discrepancy in the content, please inform us at [email protected]. You can futher read our Correction Policy here. Never disregard professional medical advice or delay seeking medical treatment because of something you have read on or accessed through this website or it's social media channels. Read our Full Disclaimer Here for further information.