Do green tea extracts have the potential to treat acne?
No, not for now. Despite having antioxidant, antimicrobial, and anti-inflammatory properties, topical green tea is unquestionably a safer option. Regrettably, because of the complex nature of acne, more high-quality research studies are needed to determine the effective dosage of topical green tea extracts for acne treatment.
Quick Take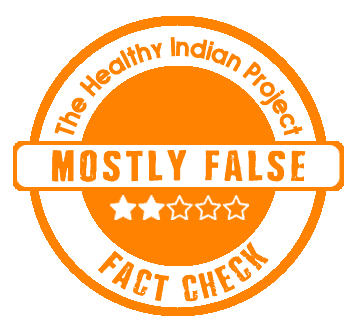 A viral Facebook post claims that a green tea face mask can cure acne. We verified the claim. According to our findings, the claim is Mostly False.
The Claim
According to a Facebook post, a green tea solid cleansing mask contains green tea extract, which has anti-acne potential, effectively cleans skin pores, deeply cleans skin dirt, balances skin water and oil, replenishes skin moisture, and nourishes the skin.
Fact Check
Is the product shown in the video trustworthy?
No, not really. We did a Google reverse image search for the product. According to our research, the product is widely available on Amazon and Flipkart. However, the names of the green tea extracts implicated in these actions have not been disclosed. Furthermore, our search did not turn up any information about the exact concentrations of the green tea extracts. The product description also lacks the number of times it must be applied, and no precautions or side effects of the products are provided. As a result, the product should not be purchased unless a dermatologist has prescribed the same.
Is it possible to use green tea extracts to treat acne?
No, not for now. Green tea is made from fresh leaves in a way that prevents the polyphenolic components from oxidizing. Catechins are the most common of these components. It should be noted that the main components of green tea beverages are catechins, flavonols, and other flavonoids. Catechins are divided into four types: catechin (C), epicatechin (EC), epicatechin gallate (ECG), epigallocatechin (EGC), and epicatechin-3-gallate (EGC-3-gallate) (EGCG).
The most abundant catechin is EGCG, which has been shown to have skin-health benefits. Acne is caused by excess sebum clogging pores and encouraging bacterial growth. As a result, green tea's EGCG is anti-androgenic and lowers lipid levels. This makes it effective at reducing sebum excretion in the skin. Hence, by reducing sebum production, EGCG can slow or stop the development of acne. Thus, green tea polyphenols could be promising in the treatment of acne vulgaris by reducing sebum production in the skin and acting as anti-inflammatory and antimicrobial agents. Even though studies have shown that green tea-containing topical creams and ointments or supplements may be beneficial, an effective dose is still unknown.
In addition to refuting the role of a green tea face mask in the treatment of acne, THIP Media has dismissed the roles of liquid chlorophyll, potatoes, and Vicks vapoRub in the treatment of acne.
Is it risky to rely solely on green tea extracts to treat acne?
Yes, it could be risky. This could be because of the complex nature of acne. As a result, the majority of treatments are only marginally effective. Traditional acne treatments, on the other hand, include topical and systemic therapies, physical modalities, lasers, and photodynamic therapy.
Nonetheless, all of these medications predispose people to potentially serious side effects, necessitating the development of more natural therapies with fewer side effects. Much more research is needed, however, to conclusively prove green tea's efficacy as an acne treatment. It is unlikely that using a green tea mask alone will cure acne.
THIP MEDIA TAKE: We conclude that the product being endorsed cannot be trusted because the names of the green tea extracts and their effective concentration for treating acne are not mentioned. Precautions and side effects are also missing from the product description. Although there is no denying that topical green tea is a safer option, our search yielded a limited number of findings on how green tea may be used in reducing sebum secretion and its role in acne pathology. As a result, more high-quality research studies are needed to determine the effective dosage of topical green tea extracts for the treatment of acne. Therefore, we conclude that the claim is mostly false.
Disclaimer: Medical Science is an ever evolving field. We strive to keep this page updated. In case you notice any discrepancy in the content, please inform us at [email protected]. You can futher read our Correction Policy here. Never disregard professional medical advice or delay seeking medical treatment because of something you have read on or accessed through this website or it's social media channels. Read our Full Disclaimer Here for further information.