Quick Take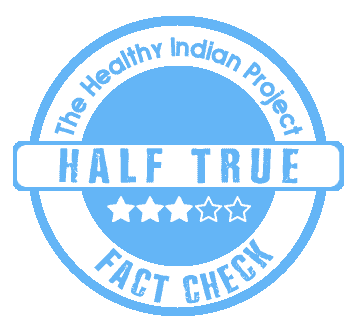 According to a Facebook video, liquid chlorophyll may be used for treating acne. We did a fact check and found this assumption to be only Half True.
The Claim
According to a Facebook video titled "Liquid chlorophyll for acne on skin," liquid chlorophyll has the potential to control and cure acne. The social media post was evaluated by THIP Media.
Fact Check
What exactly is chlorophyll?
Chlorophyll is a naturally occurring chemical produced by the green pigment in plants. This green pigment exhibits anti-inflammatory benefits. Its most prevalent formulation is chlorophyllin. This is a water-soluble semi-synthetic chlorophyll derivative. Additionally, chlorophyllin is thought to be readily absorbed by the body than chlorophyll. This is due to the inclusion of copper instead of magnesium. These synthetic chlorophyll compositions can be applied topically or consumed orally. Thus, it should be noted that chlorophyll supplements are not the same as those found in specific houseplants. Chlorophyll, on the other hand, can be naturally acquired from plants and herbs such as wheatgrass, spinach, peas, green beans, arugula, and even leeks.
Is chlorophyll good for your health?
Yes. Chlorophyll has anti-aging and wound healing properties. They also have the ability to aid in blood purification. It may also help to reduce redness of the skin and even itching. Further, it may also aid in hormonal imbalance and weight loss.
Chlorophyll is usually well tolerated. However, using chlorophyll for skin problems may have certain drawbacks. It is most commonly associated with diarrhoea and vomiting. In addition, it may also be responsible for the discoloration of the stool and urine. Furthermore, chlorophyll is a recognised absorber of sunlight. Thus, sun protection is recommended. It should also be avoided by cardiac patients, children, and pregnant women.
Is it possible for chlorophyll to entirely treat acne?
No, not always. According to the results of one study, topical chlorophyll may be effective for mild to moderate acne. Since acne is mainly made up of dead tissue, lipids, and bacteria, chlorophyll gel promotes the creation of an unfavorable bacterial environment. And might prevent acne and skin irritation. This may be due to its antioxidant, anti-inflammatory, and wound-healing properties.
The use of topical chlorophyll formulations in conjunction with LED phototherapy adds to this. The findings of another study emphasized the need of integrating chlorophyll with standard acne treatments. Thus, demonstrating that chlorophyll assists in acne management.
It should be noted that the use of chlorophyll infused water for the treatment of acne is uncertain. Regardless, there is evidence that chlorophyll helps counteract and repair the damaging effects of free radicals. Which is due to its antioxidant properties. Therefore, liquid chlorophyll may offer mild anti-aging benefits. And it might even aid in the removal of contaminants that cause skin damage. However, its utility as an acne therapy is doubtful.
We asked Dermatologist Dr. Jyothy Kannangath whether liquid chlorophyll could cure acne. She responded saying that, "Chlorophyll-infused water has recently gained popularity because of the promotion by social media influencers. Regardless of the fact that chlorophyll has antioxidant qualities, research indicating that it may reduce oxidative damage caused by hazardous carcinogens is limited." She further advises that drinking liquid chlorophyll to get rid of acne or improve your skin could make it worse. As it creates concentrated levels of chlorophyll in your body, which is unhealthy. Chlorophyll, on the other hand, can be used to treat acne in conjunction with photodynamic therapy. And this should never be a DIY treatment.
THIP MEDIA TAKE: Chlorophyll is relatively safe. However, further research is required before confirming the therapeutic significance of liquid chlorophyll, particularly in the treatment of acne. Chlorophyll, like most supplements, should not be consumed on its own. This topical or oral formulation should only be used in consultation with a dermatologist.
Disclaimer: Medical Science is an ever evolving field. We strive to keep this page updated. In case you notice any discrepancy in the content, please inform us at [email protected]. You can futher read our Correction Policy here. Never disregard professional medical advice or delay seeking medical treatment because of something you have read on or accessed through this website or it's social media channels. Read our Full Disclaimer Here for further information.