Quick Take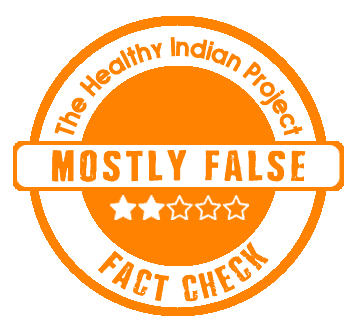 A social media user claims that one can get rid of acne scars quickly by applying potato slices. We fact-checked and found the claim to be Mostly False.
The Claim
A Facebook post reads, " Potato slice for acne.
If you want to get rid of acne scars quickly, try using potato juice. Potatoes are rich in vitamins and minerals, which help your skin to heal. Slice a potato and put the slices on your face for 15 minutes, then rinse the juice off your face with warm water."
Fact Check
What are acne scars? How are they treated?
The American Academy of Dermatology Association states, "When acne breakouts penetrate the skin deeply, they damage the skin and the tissue beneath it. As the acne clears, the body tries to repair this damage. During the healing process, the body produces collagen—a substance that gives the skin support. A scar occurs if the body produces too little or too much collagen." Acne scars can be depressed or raised, depending on how much collagen the body makes.  
There is not a single treatment regime that fits everyone. The treatment depends upon your scar type, skin type and the severity of the scarring. Usually, either one or a combination of various approaches might improve the appearance of your skin. A few approaches dermatologists use for acne scars are dermabrasion, chemical peels, laser resurfacing, steroid injections, soft tissue fillers, etc.
Is there any medical evidence to show potatoes can reduce pimple marks or scars?
No. There is no evidence to support the anti-marks benefits of potatoes on the skin. Research shows that potato skin may have some anti-inflammatory effects, which raises the possibility of soothing any pain or burning sensation caused due to acne.
However, the research was done in vitro, and further research is needed to find conclusive results.
On the contrary, other research shows that patatin, an essential compound of raw potatoes, can harm the skin. Patatin is also known to cause allergies when applied in raw form. Additionally, another study found that due to the presence of patatin, raw potato sensitivities could also be linked to latex allergies in adults. 
Our Dermatology expert, Dr. Jyoti Kannagat says, "Internet is filled with videos and blogs about the efficacy of potato or its juice for curing acne, pigmentation and scars. It is used as such or in combination with lemon juice, yogurt, milk, oatmeal, etc. Potato's skin healing benefits are attributed to an enzyme catecholase, but no scientific studies can back this up. Some animal studies have shown the anti-inflammatory effects of potato skin extracts, but it is yet to be tried in humans.
There are claims that a potato face mask may reduce signs of aging, increase glow, and decrease the appearance of hyperpigmentation. Still, it's important to remember that most of these effects are anecdotal. This means they are based on user reviews and not clinical evidence."
Can there be any side effects of using potatoes on the skin?
Yes. In some cases, using raw potato on the skin can cause an allergic reaction due to the presence of a binding protein called patatin. The signs of an allergic reaction to raw potatoes include redness and/or swelling of the skin, itching, hives, itchy or runny nose, difficulty in breathing, wheezing and rarely, anaphylaxis (a life-threatening condition).
THIP MEDIA TAKE: The internet is filled with claims about raw potato or potato juice being able to remove acne scars. We fact-checked and found that the claim is mostly false. There is no scientific evidence to the claim; instead, research shows that the compounds of raw potato may harm the skin. See your dermatologist for advice if you're looking to get rid of acne, scars, or concerns related to skin aging.
Disclaimer: Medical Science is an ever evolving field. We strive to keep this page updated. In case you notice any discrepancy in the content, please inform us at [email protected]. You can futher read our Correction Policy here. Never disregard professional medical advice or delay seeking medical treatment because of something you have read on or accessed through this website or it's social media channels. Read our Full Disclaimer Here for further information.