Is there a greater chance of cancer when using toothpaste?
Do toothpaste users have a higher chance of developing cancer?
No definitive evidence supports the claim that toothpaste causes cancer. While some studies suggest a potential association between triclosan and breast and colon cancers, toothpaste itself has not been directly linked as a causative factor. To ensure safety, it is important to follow the recommended usage instructions, avoid excessive consumption, use authorised products, and consult with a professional for guidance.
Quick Take
According to a Facebook post that has been widely circulated, toothpaste is said to be carcinogenic and should be discontinued. However, our fact-checking has revealed that this claim is Half True.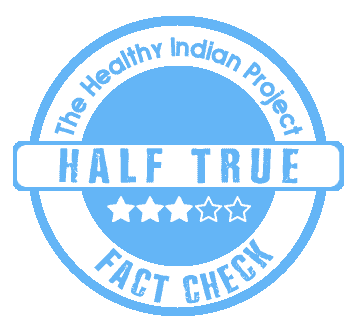 The Claim
There is a circulating Facebook post that suggests toothpaste can cause cancer due to the presence of a certain cancer-inducing agent. However, the post does not specify the type of cancer that can be caused. The accompanying video proposes using powdered dental preparations like manjans and neem sticks instead of toothpaste. It is essential to note that there is no scientific evidence presented by the social media user to back up these assertions.
Social media posts have brought up questions regarding the use of toothpaste, the potential negative effects of fluoride toothpaste on teeth, and the effectiveness of coconut oil as an alternative for dental health. We have also verified these claims with factual information.
Fact Check
What is meant by the term 'cancer' and what are its primary causes?
Cancer is a complex and devastating disease characterized by the uncontrolled growth and spread of abnormal cells within the body. Extensive scientific research has identified various risk factors and carcinogens, which are substances or agents capable of causing cancer. Carcinogens, whether chemical, biological, or physical in nature, play a role in initiating or promoting the development of cancerous cells. Examples of common carcinogens include tobacco smoke, ultraviolet radiation, and certain chemical compounds like benzene. Ongoing scientific studies continuously investigate the relationship between exposure to carcinogens and the development of different types of cancer, providing valuable insights into cancer prevention and treatment strategies.
What role does toothpaste play in oral hygiene maintenance?
Toothpaste is an oral care product that comes in the form of a paste or gel, used with a toothbrush to maintain good oral hygiene and improve aesthetics. It is designed to remove natural deposits on the teeth, and is typically used in conjunction with a toothbrush. Toothpaste is composed of several key ingredients, such as fluoride, sodium lauryl sulphate, propylene glycol, glycerin, sorbitol, silica traces, calcium carbonate, and xylitol.
Brushing with toothpaste plays a crucial role in maintaining optimal oral hygiene. It offers various benefits, such as controlling plaque and bacteria, preventing cavities and gum diseases, and strengthening tooth enamel with the help of fluoride. The presence of antimicrobial and anti-inflammatory compounds in toothpaste also contributes to gum health by reducing inflammation and preventing gum diseases. Furthermore, a healthy mouth effectively combats bad breath and ultimately reduces the risk of oral cancer. Overall, toothpaste serves as a versatile tool for promoting good oral health.
Does toothpaste have the potential to induce cancer?
Toothpaste is generally safe to use and is not known to cause cancer if used as directed. Health authorities in many countries regulate the safety of toothpaste ingredients, and extensive research has been conducted to ensure their safety. Therefore, evaluating toothpaste components is crucial to mitigate potential harm from overuse. Comprehensive cytotoxicity assessments are essential for all oral care product ingredients, including sodium lauryl sulfate, cocamidopropyl betaine, calcium carbonate, aluminium hydroxide, silica, and fluoride compounds. Regulatory bodies like the FDA, ISO, and ADA regularly review dental components used in toothpaste.
Fluoride, an essential component for dental health, is commonly found in toothpaste. However, excessive consumption of fluoride can lead to dental or skeletal fluorosis. It is important to note that the levels of fluoride in toothpaste are significantly below the threshold for causing cancer. Research indicates that fluoride concentrations up to 400 ppm are non-toxic, even with varied exposure durations (1, 15, and 30 minutes) in heavy fluoride product users. Notably, paraben and sodium benzoate exhibit minimal cytotoxicity, while cocamidopropyl betaine and sodium lauryl sulfate are identified as more toxic. These findings originate from laboratory studies, necessitating further research for validation.
However, the debatable ingredient triclosan has been linked to the development of oncogenic conditions. Triclosan is an antimicrobial agent commonly found in household products, and it can enter the body through the mouth, gut, and skin. The elimination of triclosan depends on the dosage and method of administration. It has been observed that levels of triclosan may be higher in breast milk compared to its detection in the blood and urine.
It is important to note that triclosan is classified as a xenoestrogen, which means it can interfere with oestradiol receptors by mimicking them and potentially increasing the risk of breast cancer. This mechanism could also be associated with ovarian cancer. Nevertheless, these findings are limited to laboratory studies. Furthermore, studies conducted on mice have shown that triclosan can contribute to colonic inflammation and even colon cancer. As a result, investigating the impact of triclosan on inflammatory bowel disease in humans is crucial. However, it is important to note that none of these studies directly suggest that triclosan present in toothpaste alone is responsible for the development of cancer.
It is essential to acknowledge that various chemicals and medications have distinct impacts on the human body. Hence, it is not appropriate to compare the effects of toothpaste ingredients with isosorbide dinitrate, the active ingredient in sorbitrate. Isosorbide dinitrate is mainly used to treat chest pain (angina) in patients with coronary heart disease. Triclosan is an antimicrobial that is chlorine-based and operates through a unique mechanism of action. It is worth noting that some toothpaste formulations may not include triclosan.
Moreover, scientific reviews, conducted by reputable organisations such as the American Cancer Society, have not found any compelling evidence linking toothpaste to cancer. There is no established causal relationship between toothpaste and the development of oral cancer.
When we asked Dr. Shivani Singh Mehta, Dental In-charge, MGM Hospital and Research Centre CBD Belapur, Navi Mumbai, whether toothpastes have the potential to cause cancer, she advised that toothpastes may contain certain ingredients, such as triclosan, aspartame, and parabens. However, it is important to note that toothpaste still plays a crucial role in maintaining oral hygiene and promoting healthy gums. Therefore, it is advisable to carefully choose toothpaste and review the ingredient list before use. Individuals with medical conditions should consult their doctor before using any toothpaste. To ensure safety, it is essential to be aware of the components of toothpaste, use an appropriate amount, and strictly follow the "no swallowing" rule. While using the twigs of trees may not be a practical alternative, being mindful of these factors can help minimise any potential risks associated with toothpaste use.
When we asked Dr. Ketan Rajput (MDS), Periodontal Surgeon, about the carcinogenic potential of toothpaste, he explained that toothpaste is a common dental care product that is used to remove food debris and plaque from teeth and gums. It is made up of various ingredients, including fluoride, sodium lauryl sulphate, propylene glycol, glycerin, sorbitol, silica traces, calcium carbonate, and xylitol. However, there has been concern about the use of triclosan in toothpaste and other household products, such as handwashes and detergents. Recent studies on mice have shown that triclosan can promote gut inflammation and speed up the growth of cancer cells in those with inflammatory bowel disease (IBD). While more research is needed to fully understand the effects of triclosan on other diseases, individuals with IBD and related conditions should choose toothpaste and other products that do not contain triclosan. It is important to note that toothpaste alone does not cause cancer.
Please note that toothpaste should be used correctly and not ingested. It is not intended for consumption and undergoes regular safety evaluations to address any potential concerns. Adjustments are made based on the results of these evaluations.
To ensure safety, it is important to follow the recommended usage instructions and avoid consuming toothpaste in large amounts. If you have any concerns regarding the safety of certain toothpaste brands or ingredients, it is best to consult a dentist or healthcare professional. Always be cautious and choose toothpaste products that have been approved by relevant health authorities.
Do herbal extracts play a role in maintaining oral hygiene?
Certain natural extracts have been proven to be safe and effective for managing various oral health problems. These extracts can be used either alone or in combination with conventional treatments, and they are known as herbal adjuncts for maintaining oral health.
Ayurvedic herbal plants have been found to possess properties such as antimicrobial, anti-inflammatory, analgesic, and antiulcer, making them a complementary approach to oral hygiene. However, it is important to note that while integrating traditional Ayurvedic knowledge with modern dentistry can be beneficial, relying solely on natural alternatives may not be suitable for patients with underlying medical conditions, poor oral hygiene, or gum-related problems. Therefore, regular brushing, flossing, and professional dental check-ups are still essential for maintaining good oral health. It is recommended to consult with a dentist or healthcare professional before solely relying on herbs, as individual oral health needs may vary.
Disclaimer: Medical Science is an ever evolving field. We strive to keep this page updated. In case you notice any discrepancy in the content, please inform us at [email protected]. You can futher read our Correction Policy here. Never disregard professional medical advice or delay seeking medical treatment because of something you have read on or accessed through this website or it's social media channels. Read our Full Disclaimer Here for further information.