Quick Take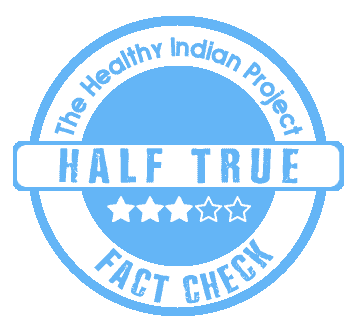 Several social media posts claim that fluoride toothpaste is toxic and harmful to teeth. We fact-checked and found the claim to be Half True.
The Claim
A Facebook user claimed, "DID YOU KNOW FLUORIDE WAS A RAT POISON BEFORE IT WAS A TOOTHPASTE? Ditch the Fluoride. The doses accumulate within the body".
A Twitter user wrote, "In conclusion. Fluoride is toxic. I'm not arguing with you about it. I don't care where it comes from. If it's F- producing, it's all bad for you. Fluoride is not your friend. Your teeth don't need it. Detox today so you can get them old dreams back. #TSPSci".
Fact Check
Is fluoride toxic for the human body?
Only in a certain scenario. The excessive long-term exposure to fluoride can have adverse effects which include, osteoporosis, teeth decay and damage to bones, kidney, reproductive organs, nerve and muscle. However, fluoride in low concentration maintains and solidifies bones and prevents dental caries. That being the case, fluoride is widely used in toothpaste because it prevents tooth decay.
Is fluoride toothpaste harmful for teeth?
Only in a certain scenario. Many dentists recommend the topical use of fluorine because of its cariostatic effect that prevents the formation of dental caries. The Indian dental Association (IDA) website states that the topical use of fluorides is 'the most effective and economical method of protecting the teeth against decay'.
To this Dr. Paridhi Garg, Dentist, adds, "Fluoride makes the tooth enamel stronger by remineralizing the lost enamel and by disrupting the cavity causing bacteria. Fluoride can be incorporated into the teeth by adding it in our diet, drinking water and toothpaste. But in excess, fluoride can be harmful for your teeth and bones so a dentist's guidance becomes imperative".
Long-term over-ingestion of highly concentrated fluoride can cause serious poisoning or a health condition called Dental Fluorosis.
The DentalHealth.org website shows that 'the amount of fluoride in toothpaste is usually enough to reduce decay. In areas where the water supply has fluoride added, fluoride toothpaste gives extra protection'. However, the excessive exposure to fluoride through drinking water and fluoride toothpaste can also negatively affect teeth.
This has been further confirmed by Dr. Sandeep Sharma, Dental Surgeon in Delhi, who said, "Fluoride is good for teeth because it hardens the enamel to prevent demineralization and cavities. However, the fluoride should be used in moderate amounts. Chronic and regular consumption of high levels of fluoride results in white flecks and yellow or brown areas scattered over the tooth surface."
While searching about the concentration at which fluoride toothpastes are available in the market, we found that most fluoride toothpastes normally have 500 – 1500 ppm fluorine and can be sold over-the-counter without prescription. However, fluoride toothpastes within this range or above must be used as prescribed by an experienced dentist.
Highlighting the importance of consulting an experienced dentist, Dr. Sharma, further added, "we prescribe fluoride toothpaste after understanding the levels of fluoride in groundwater where the patient mostly lives. We also try to analyse the dietary intake to estimate the daily fluoride intake of the patient. This practice helps in prescribing the right amount of fluoride because in case, the levels of fluoride are already high, adding more fluoride will lead to dental fluorosis".
In context with consulting an experienced dentist, we found a (2019) study that highlights the lack of 'adequate knowledge' on the 'benefits and risks of fluoridated toothpaste, which may impair doctors' decisions and discourage patients from using fluoridated toothpaste'. This study recommends 'Health education for doctors to improve their knowledge about fluoridated toothpaste'.
How fluoride affects teeth?
The IDA website shows that 'every day, minerals are added to and lost from a tooth's enamel layer through two processes, demineralization and remineralization'.
During demineralization, acids and sugar attack the enamel to degrade the mineral content. Whereas during remineralization, minerals such as fluoride, calcium and phosphate are redeposited to strengthen the enamel from food and water. A disbalance between both these processes leads to tooth decay.
The IDA website further states 'Fluoride found in a person's saliva will absorb onto the surface of a tooth where demineralization (tooth decay formation) has occurred. The presence of this fluoride in saliva, in turn, actually attracts other minerals (such as calcium), thus helping to speed up the rate or degree to which remineralization (reformation of tooth mineral) will occur'.
Is fluoride in water affecting the Indian population?
While searching more about the statement by Dr Sharma on the 'levels of fluoride in the groundwater' in context with India, we found a (2019) study that shows the Indian groundwater has high levels of fluoride, way above than the World Health Organisation (WHO) and national standards limit. The rural parts of the country are more affected than urban areas. This study has quoted a (2012) report by TheWorldBank to inform that nearly 85% of the Indian population relies on groundwater for drinking purposes.
One of the findings of this study reveals that the consumers following 'oral and dermal routes in the majority of the regions are at considerable non-carcinogenic risk and children are at higher risk than adults'. In the last, this study also recommends that the concentration of fluoride in groundwater can be decreased significantly with increase in rainfall and longitude.
THIP MEDIA TAKE: The available evidence suggests that fluoride toothpaste is only effective if used in moderation as prescribed by an experienced dentist. Hence, the claim is Half True.
Disclaimer: Medical Science is an ever evolving field. We strive to keep this page updated. In case you notice any discrepancy in the content, please inform us at [email protected]. You can futher read our Correction Policy here. Never disregard professional medical advice or delay seeking medical treatment because of something you have read on or accessed through this website or it's social media channels. Read our Full Disclaimer Here for further information.