Should paracetamol be discontinued for fever management?
No, not yet. Paracetamol is commonly used to reduce fever, but it can be risky, particularly if misused, and can cause liver damage. While ayurvedic herbal remedies can be used alongside conventional approaches, they should not be seen as a replacement for paracetamol. Therefore, exercise caution and consult with qualified healthcare professionals to ensure a comprehensive approach to managing fever.

Quick Take
There is a circulating Facebook reel that claims paracetamol is dangerous and should not be used to control fever. We have conducted thorough research to verify this claim and found it to be Mostly False.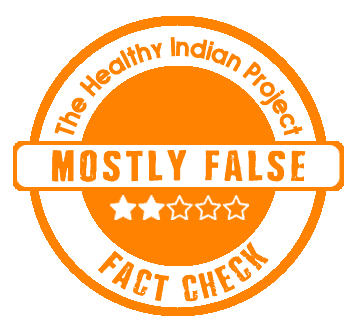 The Claim
The widely shared Facebook Reel asserts that taking an antipyretic like Paracetamol can harm various organs. Furthermore, the article recommends ingesting Kadha, an ayurvedic medicated preparation, rather than the conventional allopathic antipyretic.
On social media, some have expressed worry about the negative effects of paracetamol and the possibility that the Machupo virus is present in the paracetamol tablets. To ensure accuracy, we have conducted a fact-checking process to verify these claims.
Fact Check
What does the term 'fever' mean, and how can paracetamol help in fever management?
Fever is a natural defence mechanism that occurs when the body's temperature rises above 98.6 degrees Fahrenheit (37 degrees Celsius). It frequently occurs as a result of trauma, inflammation, or infections. There are two main types of fevers: acute, which last for a short duration, and chronic, which persist for a longer period and may indicate underlying health issues such as autoimmune disorders or certain cancers. Fever is often accompanied by common symptoms such as sweating, chills, and an elevated heart rate. These symptoms can be helpful for doctors in identifying the underlying cause.
To manage fever and alleviate discomfort, antipyretic medications are commonly used. One widely used antipyretic is paracetamol, also known as acetaminophen. This medication works by inhibiting the production of prostaglandins, which are chemicals in the body responsible for the fever response. By reducing prostaglandin levels, paracetamol effectively lowers body temperature and provides relief from fever and its associated symptoms. However, it is important to use paracetamol under medical guidance and adhere to recommended dosages to ensure its safe and effective use in managing fever.
Is it appropriate to stop using paracetamol for managing fever?
No, not yet. Paracetamol, also known as acetaminophen, is a widely used over-the-counter medication known for its effectiveness in reducing fever and managing mild to moderate pain. However, it is important to use it properly and exercise caution, as improper use can pose risks, particularly in terms of liver damage. Paracetamol is metabolised by the liver, and an overdose, especially when combined with regular alcohol consumption, can result in severe liver toxicity. Accidental overdoses can also occur when individuals unknowingly take multiple medications that contain paracetamol, which is a common ingredient in cold and flu remedies.
Although paracetamol does not have anti-inflammatory properties, which makes it less suitable for certain conditions like arthritis, its widespread use can be attributed to several factors. Paracetamol is known for its minimal impact on the gastrointestinal system. However, it is important to note that excessive and uncontrolled intake of paracetamol may result in abdominal pain, discomfort, heartburn, nausea, or vomiting. Additionally, it is well-tolerated across different age groups, from children to the older people, and has few interactions with other medications, making it compatible with various treatments. The fact that paracetamol is considered safe during pregnancy, under medical guidance, also adds to its appeal.
When using paracetamol to manage fever, it is important to be mindful of potential adverse reactions, such as rare skin issues. Monitoring for unexpected symptoms is crucial, especially for those with a history of skin sensitivity or allergies. In rare cases, paracetamol can cause adverse skin reactions such as rashes, itching, hives (urticaria), and, extremely rarely, Stevens-Johnson syndrome (SJS) or toxic epidermal necrolysis (TEN). These skin reactions emphasise the importance of monitoring for unexpected symptoms and promptly discontinuing the use of paracetamol, especially for individuals with a history of skin sensitivity or allergies.
Even though paracetamol is generally safe, it is still crucial to follow dosage instructions and be mindful of any possible adverse effects. Consulting healthcare professionals is crucial to ensuring safe and effective use. To maximise the benefits of paracetamol while minimising risks, users should follow prescribed guidelines and seek professional guidance when necessary.
Dr. Kashyap Dakshini, General physician practicing in Mumbai, explains that paracetamol is considered the safest antipyretic for treating fever. While other drugs like ibuprofen and NSAIDs also have antipyretic effects, it is important to use them with caution. He advises exercising caution when taking these drugs for prolonged periods, as they may have adverse effects on the stomach, liver, and kidneys. It is not recommended to use NSAIDs in individuals with kidney problems, stomach ulcers, liver conditions, or cardiac issues.
What part does an ayurvedic 'Kadha' play in the management of fever?
Ayurveda offers a comprehensive approach to managing fever by emphasising the traditional herbal remedy known as "kadha." According to Ayurvedic philosophy, fever is seen as a doshic imbalance that needs to be restored for overall harmony. Kadha, a time-honoured infusion, combines tulsi, ginger, black pepper, and cinnamon, which are renowned for their immune-boosting, anti-inflammatory, antimicrobial, and overall wellness properties. By simmering these ingredients, a powerful elixir is extracted, believed to alleviate fever and strengthen the immune system.
Ayurvedic practitioners customise kadha formulations based on individual constitutions and doshic imbalances. In addition to kadha, dietary adjustments and lifestyle modifications are recommended to support the body's healing process. While Ayurveda has been practiced for centuries and offers a holistic approach, it is important to seek guidance from qualified practitioners when using remedies like kadha.
It is essential to note that kadha plays a significant role in Ayurvedic fever management. However, it is considered complementary and not a substitute for conventional medications such as paracetamol. Paracetamol, a pharmaceutical fever reducer, is specifically designed for symptom relief. Even though kadha can enhance treatment regimens, caution must be exercised and medical professionals should be consulted, especially in cases of severe or persistent fever. It is recommended to incorporate Ayurvedic medications under the guidance of a qualified expert and in compliance with any necessary medical interventions.
Disclaimer: Medical Science is an ever evolving field. We strive to keep this page updated. In case you notice any discrepancy in the content, please inform us at [email protected]. You can futher read our Correction Policy here. Never disregard professional medical advice or delay seeking medical treatment because of something you have read on or accessed through this website or it's social media channels. Read our Full Disclaimer Here for further information.