Quick Take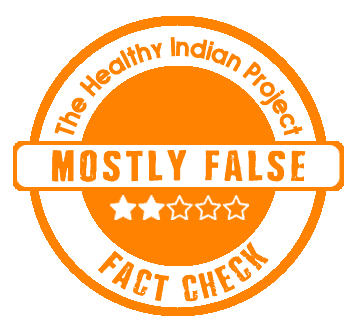 A video on social media claims titanium dioxide in tampons causes cancer. We fact-checked and found the claim is Mostly False.
The Claim
A video on Facebook shows women claiming tampons contain titanium oxide which can cause cancer.
Fact Check
What is titanium dioxide?
Titanium dioxide is a white, opaque, naturally occurring mineral widely used for commercial purposes including tampons. Also, the U.S. Food and Drug Administration (FDA) considers tampons as medical devices and continues to allow the use of titanium dioxide in amounts not exceeding minimum required quantity to meet the needed coloring effect.
Is titanium dioxide toxic?
It depends on exposure level. FDA has recognized titanium dioxide as safe if it is less than one per cent of the food's total weight. FDA, which conducts premarket review for products like tampons to assess the effectiveness and safety among users, has released no report till now to confirm titanium dioxide in tampons is toxic. Even sunscreens having 25% titanium dioxide are considered safe for human use.
But the World Health Organization's International Agency for Research on Cancer classifies it as "possibly carcinogenic to humans." The use of titanium dioxide as a food additive was even banned in the European Union.
Does titanium dioxide in tampons cause cancer?
It does not seem so. The available evidence does not confirm whether titanium dioxide in tampons causes cancer. In a blog post, Dr. Jen Gunter, OB/GYN explained that "Titanium dioxide doesn't dissolve in water, meaning the nanoparticles aren't going to dissolve from the tampon string and get into the blood that might be pooling in the vagina and then get absorbed by the body". Also, a study published in 2014 shows titanium dioxide sticks to the fabric, and is not easily washed out.
We asked Dr Sarthak Moharir, Radiation Oncologist, HCG Cancer Centre, Vadodara, whether titanium dioxide in tampons can cause cancer. To this, he said "There are studies in rats that suggest inhaling titanium dioxide might prove to be carcinogenic. There is no evidence to prove using it internally in the form of a tampon may cause cancer".
Although no evidence confirms the claim made, safety of titanium dioxide in tampons has never been investigated. We could not find published papers that have discussed the impact of titanium dioxide in tampons among individuals. But titanium dioxide is considered to cause adverse reactions, so it is not unreasonable to be cautiously concerned.
Disclaimer: Medical Science is an ever evolving field. We strive to keep this page updated. In case you notice any discrepancy in the content, please inform us at [email protected]. You can futher read our Correction Policy here. Never disregard professional medical advice or delay seeking medical treatment because of something you have read on or accessed through this website or it's social media channels. Read our Full Disclaimer Here for further information.