Can depression be treated by eating onions?
Onions are good for health in many ways, but they have not yet been proven to be used as a treatment modality for depression. Depression is a disease which can affect a person's life in several ways and needs treatment from medical experts before the disease progresses further.
Quick Take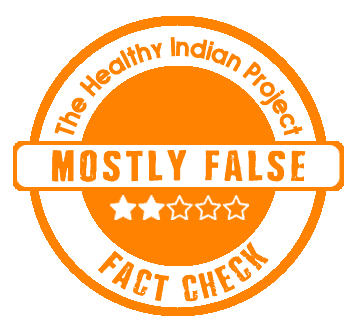 A social media post claims that along with various benefits of daily consumption of onions, it can also be used to treat depression. We fact-checked and found that the claim lacks credible scientific evidence and, thus, is Mostly False until proven otherwise.
The Claim
A Facebook post reads, "DID YOU KNOW?
Eating 2 onions daily helps increase immunity, treat depression, fight the common cold and flu being a potent natural antibiotic, and it helps you sleep better!" The screenshot of the same can be seen below.
Fact Check
What is Depression?
According to the American Psychiatric Association, "Depression (major depressive disorder) is a common and serious medical illness that negatively affects how you feel, the way you think and how you act." It can lead to a variety of physical and emotional problems by causing a persistent feeling of sadness and loss of interest in everything. According to the WHO, "Depression affects about an estimated 3.8% of the population, including 5.0% among adults and 5.7% among adults older than 60 years."
How is depression treated?
Depression, even if diagnosed at a later stage, can be treated. However, the earlier treatment is started, the more beneficial it would be.
The treatment modalities of depression include medications (antidepressants), psychotherapy (such as one-to-one counselling) and cognitive behavioural therapy, or a combination of these two. If in case, the symptoms do not reduce with these options, Electroconvulsive Therapy (ECT) and other brain stimulation therapies are explored.
It must be noted that no two people are affected the same way by depression, and there is no 'one-size-fits-all' treatment.
Does eating 2 slices of onions a day treat depression?
No. No compelling research can give scientific proof of onions working as a treatment for depression. Onions are definitely good for health as they are proven to have anti-inflammatory properties and antioxidant properties due to the presence of Vitamin E. Furthermore, onions can also help reduce atherosclerosis and cardiovascular disease, eye diseases and the risk of thrombosis, but their benefit in treating depression is not yet proven. Although research done on rats suggest that onion exerted antidepressant-like activity when administered daily in rats. But, neither such study was done on humans, nor did the study claim that similar effects will definitely be seen in humans. People who suffer from depression must seek out evidence-based interventions as a treatment modality.
Psychiatrist Dr. Binda Singh states, "No. Depression is a disease and needs proper treatment. It can happen due to a variety of reasons, such as situational, trauma, physical health issues, etc. Normally eating onions and other fruits and vegetables help in getting rid of inflammation. They are good antioxidants hence help in keeping your body and brain healthy, and do reduce stress but eating these things cannot cure acute depression or anxiety. No scientific studies prove that consuming two slices of onion a day will cure depression. It needs intervention, which might include medication, counselling, positive thoughts, communication, etc. Unfortunately, the dietary cure for depression has no scientific evidence. In conclusion, the consumption of onion may be beneficial for health, but it can't be used as a therapeutic measure to treat depression."
Disclaimer: Medical Science is an ever evolving field. We strive to keep this page updated. In case you notice any discrepancy in the content, please inform us at [email protected]. You can futher read our Correction Policy here. Never disregard professional medical advice or delay seeking medical treatment because of something you have read on or accessed through this website or it's social media channels. Read our Full Disclaimer Here for further information.