Quick Take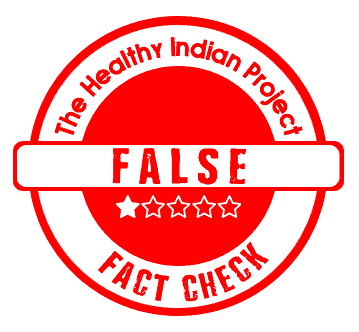 A social media post asks for a way of protecting unvaccinated people with covid vaccine from getting the blood of vaccinated ones. We fact-checked and found the post is incorrect, and the claim is False. Covid vaccines are injected into muscles and not the bloodstream.
The Claim
A Twitter post asks for a way of protecting unvaccinated people with covid vaccine from getting the blood of vaccinated ones. Even the American Red Cross Society replied with a tweet claiming they do not label blood supply with vaccinated or unvaccinated tags because the covid vaccine does not enter the bloodstream.
Fact Check
How covid vaccines are injected?
An image published at BMJ shows a large localised injection site to inform covid vaccines are injected into muscles. This mode of injecting vaccine has high efficacy if given the right way. The reason is muscles have all blood vessels enough to bypass drug metabolism at a specific location within the body. 
Does covid vaccine go into the bloodstream?
Not exactly. No scientific evidence confirms covid vaccines get into the bloodstream. The same has been confirmed by the American Red Cross Society, which replied to the claimed social media post.  
We asked Dr Suman Jain, Secretary and Chief Medical Research Officer at Thalassemia & Sickle Cell Society, Hyderabad and Senior Research Officer at Neerikshana, to share her views on the claimed social media post. She replied "Blood supply does not get contaminated with COVID vaccine. We advise blood donors to donate blood after 15 days of COVID vaccination. It is because protection by antibodies from covid vaccine takes around 15 days."
We also asked Dr Sirisha Rani, Haematologist and Oncologist at the Rainbow Children's Hospital and BirthRight by Rainbow, Hyderabad, how soon vaccinated people can donate blood. To this, she replied "There is no deferral time if it is mRNA or inactivated vaccine. Individuals can donate blood as soon as they feel physically fit post vaccine. However, if the vaccine is live attenuated or in case the people don't know the type of vaccine they took, it is recommended to wait for two weeks."
We research a bit more to find literature that can show any instance where covid vaccine might get into the bloodstream. An article published in 2021 suggests if the needle happens to puncture a vein, the covid vaccine could enter the bloodstream to produce clumps of platelets and adenovirus. But Dr Rani clarifies that "there is little data to confirm such a scenario can happen in the rarest of rare situations with faculty technique where Adeno is a vector, not in others." She claims to have no experience of patients who have had covid vaccine in their bloodstream.
Dr Rani further debunks a few misconceptions around blood donation. She informs "people who are vaccinated with covid vaccine will not have less immunity if they donate blood. Also, their blood does not cause any harm to recipient, along with no damage to the health of the donor."
THIP MEDIA has previously debunked a fake claim like this on vaccination camps asking people to donate their children's organs.
Disclaimer: Medical Science is an ever evolving field. We strive to keep this page updated. In case you notice any discrepancy in the content, please inform us at [email protected]. You can futher read our Correction Policy here. Never disregard professional medical advice or delay seeking medical treatment because of something you have read on or accessed through this website or it's social media channels. Read our Full Disclaimer Here for further information.