Neither ACV nor cinnamon can completely heal diabetes. There may be some limited but substantial benefits in decreasing blood glucose levels. The fact that insulin can treat type 1 diabetes should be emphasized. Type 2 diabetes must be managed with oral hypoglycemics, physical activity, and a healthy diet.
Quick Take
According to a Facebook post, cinnamon and apple cider vinegar can combat type 2 diabetes. We verified the assertion and found in our research that this claim is Half True.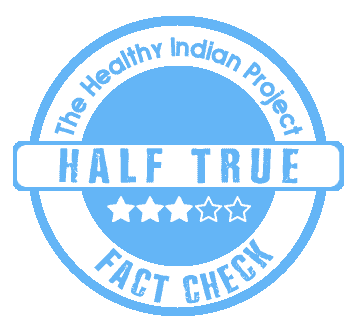 The Claim
According to a Facebook post titled "2 Natural Diabetes Cures", cinnamon and apple cider vinegar can effectively reduce blood sugar levels. The claim further asserts that the two superfoods may be able to naturally reverse type 2 diabetes.
Fact Check
What is Diabetes?
Diabetes is a metabolic disorder. The condition exhibits elevated blood glucose levels. Patients with the illness typically have increased thirst, hunger, and frequent urination. The condition either develops an ineffective cellular response to insulin or inadequate insulin production. These are referred to as type 2 and insulin-dependent diabetes, respectively. Additionally, the former is more common than the latter.
Is apple cider vinegar effective for diabetics?
Yes, to a certain extent. In type 2 diabetes, the body fails to produce adequate insulin. Dietary modifications help to control it. There is evidence to support the claim that apple cider vinegar can moderately control blood sugar. ACV enhances blood sugar absorption. As a result, insulin sensitivity increases. Additionally, a diabetic diet that incorporates apple cider vinegar may help avoid obesity. It is critical to understand that obesity poses a serious risk for type 2 diabetes and apple cider vinegar helps to reduce blood sugar levels. The evidence is limited, though. Additionally, the condition cannot be solely addressed by apple cider vinegar.
Can cinnamon lower blood sugar levels?
Yes, but not always. Cinnamon is a spice that has a long history of preventing diabetes. This is due to evidence that it contains physiologically active molecules with characteristics similar to those of insulin. Studies on cinnamon, however, have produced contradictory findings. The fact that cinnamon only slightly lowers blood sugar levels should be emphasized. Furthermore, the majority of studies looking at cinnamon's effect on glycemic control in people with type 2 diabetes mellitus were unable to find any potential therapeutic benefits.
Can cinnamon and apple cider vinegar replace type 2 diabetic medications?
Not exactly. It is worth noting that there is no documented medication that could reverse type 2 diabetes. The condition, however, can only be managed. The protocol includes regular blood glucose testing, dietary and lifestyle modifications, and oral medication.
Blood glucose levels have been demonstrated to benefit from the use of apple cider vinegar. However, these effects are transient. This is due to the unpredictable effects of consuming ACV. Cinnamon, on the other hand, is frequently well tolerated. The findings, however, showed that consuming a specific amount of cinnamon for 60 days had no impact on the blood glucose levels of type 2 diabetics. Furthermore, there is a dearth of guidelines for acceptable dosages and administration methods for both ACV and Cinnamon. As a result, we reach the conclusion that there is insufficient evidence to support the claim that cinnamon and apple cider vinegar can replace oral hypoglycemic medications.
We checked with Dr. Ritesh Bansal, the founder and Senior Consultant Diabetologist at the Delhi-based Saroj Diabetes & Research Center about the claim. He advised, "The majority of diabetic patients constantly search for alternative medical treatments that might be helpful. This is due to the fact that all diabetic patients are instructed to maintain a specific blood sugar level through diet, lifestyle changes, and allopathic medications. Regarding the claim, it has been seen that cinnamon and apple cider vinegar both have many health benefits. These are potent antioxidants and anti-inflammatory agents that even reduce insulin resistance. These serve a supportive role. Therefore, these natural therapies can benefit those who have lifestyle issues. Still, the patient needs to be closely monitored while using such natural remedies and is advised to follow his/her medical treatment as suggested by their doctors."
We were also guided by Voomika Mukherjee, a certified dietitian and health coach. She cautioned that these components can not replace diabetic medicines. However, adding either of these to the diet would assist in reducing the symptoms.
There isn't enough definite evidence that cinnamon and apple cider vinegar can solely treat type 2 diabetes. Therefore, the claim is Half True.
Disclaimer: Medical Science is an ever evolving field. We strive to keep this page updated. In case you notice any discrepancy in the content, please inform us at [email protected]. You can futher read our Correction Policy here. Never disregard professional medical advice or delay seeking medical treatment because of something you have read on or accessed through this website or it's social media channels. Read our Full Disclaimer Here for further information.