Does a ring exerts magnetic acupressure therapy to cure diabetes?
Can acupressure using magnetic therapy jewelry reduce by blood sugar?
We need more evidence. There is no scientific evidence that informs people with abnormal blood sugar levels can normalize their blood sugar through magnetic acupressure therapy. Also, scant evidence shows jewelry pieces like a ring, sold in the market can exert magnetic acupressure therapy to reduce blood sugar. Experienced doctors recommend proper treatment and healthy lifestyle rather than relying on an easy fix.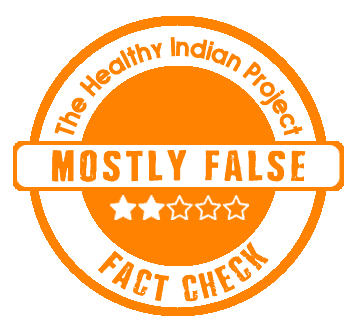 Quick Take
A video on social media claims wearing a magnetic acupressure therapy ring can maintain blood sugar. We fact-checked and found the claim to be Mostly False.
The Claim
A Facebook video is promoting a website that sells a ring. The video claims that the ring in the video exerts magnetic acupressure therapy to maintain blood sugar levels. 
Fact Check
What is magnetic acupressure therapy?
The available research shows that acupressure and magnetic therapy related to one another. Magnet therapy during acupressure relieves pain. Magnetic acupressure therapy or acupressure magnetic therapy is an alternative practice that uses magnets to remove pain.
Magnet therapy is given in different ways. However, we are focusing on static magnetic field therapy for our claimed video.
Out of all types of magnetic therapy, only static magnetic field therapy follows the process of touching a magnet to the skin, to reduce the pain. All the so-called therapeutic magnets sold in the market are based on static magnetic field therapy. These magnets are available as bracelets, rings, or shoe inserts, mattresses and clothing in the market.
What does the social media video say?
The social media video claims the ring in the video exerts magnetic acupressure therapy to maintain blood sugar levels. We clicked on the link 'https://bit.ly/3Spvcqx' mentioned in the Facebook post. It took us to an e-commerce website named qwmoine.store.
This website is registered in Arizona, U.S.A. but is selling products in India. The contact us page states qwmoine.store is 'being one of the leading COD shops online in India, we offer 100% customer satisfaction and customer service for all matters'. 
This page also mentions a company name 'Yiwu Qinghe Trading Co., Ltd.' for 'Prime Deal Customer Support'. Google search showed zero results for this company name. 
Can magnetic acupressure therapy maintain blood sugar?
We need more evidence. As of now, no evidence confirms people with high or low blood sugar levels can use magnetic acupressure therapy to normalize their health condition.
We checked with Senior Physiotherapist Upma Lal whether magnetic acupressure therapy through a ring maintain blood sugar levels. To this, she said, "Magnetic acupressure therapy, in general, cannot produce insulin in pancreas. So, this question should not arise because a ring cannot control and maintain blood sugar. Only walking 40 to 60mnt/day, doing exercise, yoga and eating food that has low glycemic index can maintain blood sugar. A holistic and disciplined way of life can ensure regulation of blood sugar in ones body."
Where Ms Lal negates the effect of ring on blood sugar levels, research paper published in 2017 proves the claim. This paper shows that a ring is a patented device that provide acupressure at a point. However, the paper does not clearly explain how a ring uses magnetic acupressure therapy to normalize blood sugar levels. This therapy needs to be explored further ahead. 
What can be the dangers of trying to maintain blood sugar levels at home and not seek medical advice?
To answer this question, we referred to a warning issued on the U.S. Food and Drug Administration (FDA) website. The website informs that products that ensure an easy fix can be alluring, but people can take a risk and gamble with their health. The warning states 'People with chronic or incurable diseases may feel desperate and become easy targets'.
Relying solely on an easy fix and not following well-established treatment plans can cause unforeseen health issues. Blindly using bogus products can worsen health conditions and expose people to unproven and unreasonable risky products.
Fake claims of jewelry pieces curing health conditions are common on social media. THIP MEDIA has previously fact-checked a fake claim of clip-on earrings reduce weight in four weeks.
Disclaimer: Medical Science is an ever evolving field. We strive to keep this page updated. In case you notice any discrepancy in the content, please inform us at [email protected]. You can futher read our Correction Policy here. Never disregard professional medical advice or delay seeking medical treatment because of something you have read on or accessed through this website or it's social media channels. Read our Full Disclaimer Here for further information.