Does chlorophyll aid in preventing intestinal ulcers and skin diseases?
Not really. While chlorophyll shows some potential health benefits like antioxidants and anti-inflammatory properties, its direct role in preventing intestinal ulcers and skin diseases lacks robust scientific support. Other factors such as diet, hygiene, and medical care remain more significant for preventing these conditions.

Quick Take
A social media post's caption claims that chlorophyll  prevents intestinal ulcers and skin diseases, cleanses the blood, stimulates appetite, AIDS digestion, benefits skin health, soothes stomach lining, cures ulcers, remedies kidney stones, addresses bladder-related diseases, and boosts the immune system. We did a fact check and found this claim Mostly False.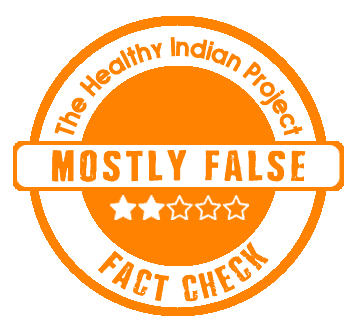 The claim
A Facebook post from the page "Zero Per cent" claims that chlorophyll can prevent intestinal ulcers and skin diseases. THIP Media assessed the accuracy of this claim.
Fact Check
What are chlorophyll?
Chlorophyll, a naturally occurring compound derived from the green pigment in plants, offers inherent anti-inflammatory properties. Its primary form is chlorophyllin, a water-soluble derivative with enhanced absorption compared to pure chlorophyll due to the substitution of magnesium with copper. These synthetic chlorophyll versions can be applied topically or ingested. Notably, chlorophyll supplements differ from those found in specific houseplants. Natural sources of chlorophyll include wheatgrass, spinach, peas, green beans, arugula, and even leeks.
Can chlorophyll prevent stomach ulcers?
Although specific research directly examining the impact of chlorophyll on stomach ulcers is limited, its potential advantages can be deduced from its attributes. Chlorophyll, a natural plant compound crucial for photosynthesis, harbors antioxidants and anti-inflammatory characteristics. These properties suggest that it might have a positive impact on stomach ulcers. Antioxidants can help protect the stomach lining from oxidative stress. Additionally, anti-inflammatory properties might contribute to reducing inflammation in the stomach lining, potentially promoting the healing process of ulcers. Yet, further human research is necessary to ascertain the exact impacts of chlorophyll on stomach ulcers and to define its potential function as a therapeutic agent. It's essential to consult a medical professional before using chlorophyll or any other supplement to address stomach ulcer concerns.
Apart from chlorophyll, there are limited evidences of Cayenne Pepper in treating stomach ulcers, cranberry juice being effective in treating stomach ulcers and Wood apples offering potential benefits during stomach ulcers.
Can chlorophyll prevent skin diseases?
The ability of chlorophyl to prevent skin diseases lacks conclusive scientific support. While it offers some potential health benefits, such as its antioxidant properties, there is insufficient evidence to firmly establish a direct link between chlorophyll consumption and the prevention of skin diseases. Limited research suggests that liquid chlorophyll could potentially treat acne, although concrete evidence remains scarce. Maintaining overall skin health requires a combination of factors, including proper skincare, sun protection, and a balanced diet, rather than relying solely on chlorophyll.
We engaged in a consultation with Dermatologist Dr. Jyothy Kannangath to discuss the potential acne-alleviating effects of liquid chlorophyll. She emphasized that, "The surge in popularity of chlorophyll-infused water, frequently endorsed by social media influencers, lacks a robust research foundation. Despite chlorophyll's possession of antioxidant attributes, its efficacy in countering oxidative damage from harmful carcinogens remains insufficiently substantiated." Dr. Kannangath advises against relying on liquid chlorophyll for acne mitigation due to the potential elevation of chlorophyll levels in the body, which could prove detrimental. Nonetheless, she highlights that chlorophyll could be employed in tandem with photodynamic therapy for skin treatment, an approach best administered by professionals rather than as a DIY endeavor.
Is it safe to take chlorophyl everyday?
Incorporating chlorophyl-rich foods into your daily diet, such as green vegetables, is generally safe for most people. However, if considering supplements, it's advisable to exercise caution. Regular and prolonged use of supplements may lead to unintended effects. 
Disclaimer: Medical Science is an ever evolving field. We strive to keep this page updated. In case you notice any discrepancy in the content, please inform us at [email protected]. You can futher read our Correction Policy here. Never disregard professional medical advice or delay seeking medical treatment because of something you have read on or accessed through this website or it's social media channels. Read our Full Disclaimer Here for further information.