Quick Take
A part of a social media post states that Cayenne Pepper can heal stomach ulcers. We fact-checked and found this post to be Half true.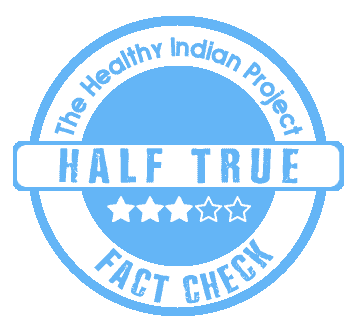 The Claim
A section of the YouTube video titled "27.02.2016 – Barbara O'neill – Natural remedies" 1:18:06 in the video, O'Neill claims that cayenne pepper can be used as a medicinal component and to treat stomach ulcers.
Fact Check
A stomach ulcer, also known as a gastric ulcer, is an open sore or lesion that forms in the lining of the stomach. These sores can also occur in the upper part of the small intestine, which is called a duodenal ulcer. Stomach ulcers are a common condition that can cause discomfort, pain, and other symptoms.
The most common symptoms of stomach ulcers include burning or gnawing stomach pain, nausea, vomiting, bloating, loss of appetite, and weight loss. In some cases, stomach ulcers can cause more severe symptoms such as vomiting blood, passing black, tarry stools, or having a sudden, sharp stomach pain.
What causes stomach ulcers?
Stomach ulcers, also known as gastric ulcers, are caused by a breakdown in the stomach lining that allows digestive acids to damage the tissue beneath it. The most common cause of stomach ulcers is a bacterial infection called Helicobacter pylori (H. pylori). This bacteria infects the stomach lining and can cause inflammation, leading to ulcers.
Other factors that can contribute to the development of stomach ulcers include long-term use of nonsteroidal anti-inflammatory drugs (NSAIDs) such as aspirin and ibuprofen, excessive alcohol consumption, smoking, stress, and an overproduction of stomach acid.
How is a stomach ulcer treated?
Stomach ulcers are typically treated with a combination of medications and lifestyle changes. The treatment will depend on what caused it. The goal of treatment is to reduce the amount of stomach acid that is produced, as well as to promote the healing of the ulcer.
Some common treatments for stomach ulcers include:
Proton pump inhibitors (PPIs): These medications reduce the amount of acid produced in the stomach, helping to relieve symptoms and promote healing. Examples of PPIs include omeprazole, lansoprazole, and pantoprazole.
H2 receptor antagonists: These medications also reduce the amount of acid produced in the stomach. Examples of H2 blockers include ranitidine and famotidine.
Antacids: These medications help to neutralize stomach acid, providing relief from symptoms. Examples of antacids include calcium carbonate and magnesium hydroxide.
Antibiotics: If the stomach ulcer is caused by a bacterial infection (Helicobacter pylori), antibiotics may be prescribed to eliminate the bacteria.
Lifestyle changes: It is important to make some lifestyle changes to help reduce the risk of developing stomach ulcers or to prevent them from recurring. This may include avoiding certain foods, avoiding eating at odd times, reducing stress, quitting smoking, and reducing alcohol consumption.
It is important to work with your doctor to determine the best treatment plan for your specific condition. They may also recommend additional testing, such as an endoscopy, to further evaluate the ulcer and monitor the healing progress.
Can Cayenne Pepper heal stomach ulcers?
Maybe. There is a lack of sufficient scientific evidence in proving that cayenne pepper can heal stomach ulcers. Moreover, an overconsumption can also cause some side effects.
Furthermore, there has been a public statement released against the claimant, i.e., Mrs Barbara O'Neill. The Health Care Complaints commission alleged that she is an "unregistered practitioner" who "makes dubious and dangerous health claims regarding infant nutrition, causes and treatment of cancer, antibiotics and vaccinations that are not evidence-based or supported by mainstream medicine."
Capsaicin is the most active ingredient in cayenne. A study states the capsaicin does not stimulate but inhibits acid secretion, stimulates alkali, mucus secretions and particularly gastric mucosal blood flow which help in prevention and healing of ulcers. The National Pesticide Information Centre states that eating too much capsaicin can lead to irritation of the mouth, stomach, and intestines.
On asking our Gastroenterologist Dr. Sharad Malhotra, he comments, "Cayenne pepper may be rich in antioxidants but no scientific evidence exists for its use in stomach ulcers. Anecdotal reports can not be used for treating stomach ulcers."
Additionally, some people maybe allergic to cayenne pepper and they may face an allergic reaction if they consume it for treating an ulcer. It is believed that people who are allergic to latex, bananas, kiwi, chestnuts, and avocado may also have an allergy to cayenne.
Moreover, capsaicin can cause stomach irritation. People with ulcers or heartburn should talk to their doctor before consuming Cayenne Pepper as overconsumption of capsaicin could cause stomach pain.
Disclaimer: Medical Science is an ever evolving field. We strive to keep this page updated. In case you notice any discrepancy in the content, please inform us at [email protected]. You can futher read our Correction Policy here. Never disregard professional medical advice or delay seeking medical treatment because of something you have read on or accessed through this website or it's social media channels. Read our Full Disclaimer Here for further information.