Is folic acid consumption a reason for postpartum depression?
There is no scientific evidence to suggest that folic acid causes postpartum depression. It is recommended for women trying to conceive and pregnant women, as it helps prevent neural tube defects in babies. Folate deficiency may be involved in the etiology of depression. However, it should be taken under the guidance of a doctor, as excessive intake can have adverse effects.
Quick Take
A social media post claims that folic acid is causing postpartum depression and the disease is not hormone related. We fact-checked and found this claim to be False.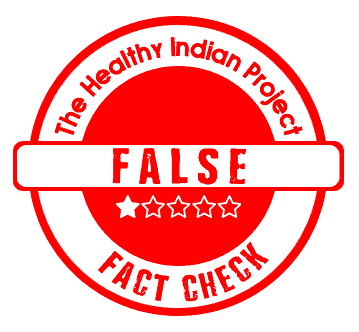 The Claim
A video surfaced on Instagram with the caption, "Sage Workinger explains how the bread and pasta in America cause health problems.
#bread #pasta #food #health #doctor #allergies."
During the video, the claimant states, "In 1993, the government started spraying our grain source with folic acid. Guess what went on the rise? Antidepressants, anti-anxiety medication. Gut medication …" A screenshot is given below:
Fact Check
What is Folic acid?
Folic acid, also known as vitamin B9, is a water-soluble B vitamin that is essential for a variety of bodily functions. It plays a key role in DNA synthesis, cell growth, and development. It is particularly important during periods of rapid growth and development, such as during pregnancy and infancy. Additionally, it also plays an important role in mental and emotional health.
What is postpartum depression?
Postpartum depression (PPD) is a type of depression that affects women after giving birth. It is a common mental health disorder that affects approximately 1 in 7 new mothers. PPD can develop any time within the first year after giving birth, but it most commonly begins in the first few weeks or months. Although women who experience baby blues typically recover quickly, postpartum depression (PPD) can have a more lasting and severe impact on their ability to resume normal functioning. PPD affects not only the mother's well-being but also her relationship with the infant, compromising maternal brain response and behavior. Symptoms of PPD can include mood changes, changes in appetite or sleep patterns, fatigue, feelings of worthlessness or guilt, and thoughts of harming oneself or the baby. Treatment options can include therapy, medication, or a combination of both.
Does folic acid cause postpartum depression?
No. There is a lack of scientific evidence to prove that folic acid can cause postpartum depression. In fact, folic acid is an essential nutrient that plays a crucial role in many bodily functions, and a deficiency can lead to serious health problems. Because many people do not consume enough folic acid through their diet alone, supplements are often recommended to ensure adequate intake. If a woman consumes enough folic acid (400 micrograms (mcg) daily) before and during early pregnancy, it can help prevent her baby from having a neural tube defect. Therefore, it is recommended for women who are trying to conceive as well as pregnant women.
Additionally, folic acid supplements also may prevent atherosclerosis and some malignant neoplasms. It is also recommended to treat folate deficiency anemia and inflammatory bowel disease.
Firstly, the cause of postnatal depression is not completely clear, and no proven association is found between folic acid consumption and the disease. Moreover, contrary to the claim, research published in the Journal of Psychiatry and Neuroscience states that folate deficiency may be involved in the etiology of depression. Also, the NIH fact sheet on folate states that people with low blood levels of folate might be more likely to have depression. Also, they might not respond as well to antidepressant treatment as people with normal folate levels.
With respect to the MTHFR mutation, the CDC spoke on if anyone with an MTHFR mutation can consume folic acid or not and stated that "Even if you have one or two copies of the MTHFR C677T variant, your body can safely and effectively process all different types of folate, including folic acid."
Our Nutritional expert Kamna Chauhan clarifies this by stating, "No, no studies have proved folic acid causes postpartum depression. Moreover, folic acid is a vital nutrient we need for body function. If we have lower folate levels, then there is a chance of having the risk of major depression. Folic acid is required for the formation of neurotransmitters, serotonin, norepinephrine and dopamine, which are known to be deficient in depression. Doctors recommend 600 micrograms per day during pregnancy, 400-800 micrograms during postpartum and 500 micrograms while breastfeeding. Low folate levels can often be fixed with an increase in vegetables, even supplementation is necessary, but it should be taken under the guidance of a doctor as if we can take too much folic acid, then it will be dangerous."
However, it is important to note that folic acid supplements should be taken under the guidance of a healthcare professional or doctor, as too much folic acid can have adverse effects.
THIP Media has already fact-checked a claim against folic acid that stated that it is useless and harmful.
Disclaimer: Medical Science is an ever evolving field. We strive to keep this page updated. In case you notice any discrepancy in the content, please inform us at [email protected]. You can futher read our Correction Policy here. Never disregard professional medical advice or delay seeking medical treatment because of something you have read on or accessed through this website or it's social media channels. Read our Full Disclaimer Here for further information.