Do folic acid supplements cause health problems?
Not really. Folic acid supplements, taken as directed by a healthcare professional, are not useless or harmful. Rather its deficiency can lead to several health problems. Also, it's crucial for pregnant women. Though there are certain side effects such as nausea and diarrhea, therefore, doctor's consultation is required.
Quick Take
A social media post claims that folic acid supplements are of no use and might even be harmful. We fact-checked and found this claim to be Mostly False.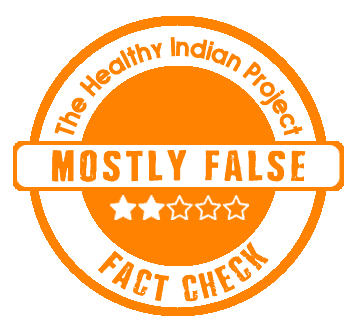 The Claim
A Twitter post reads, "Folic Acid Supplements are Useless and Harmful http://go.shr.lc/1JttwrB
#folicacid #pregnancy #cancer"
Fact Check
What is Folic acid?
Folic acid, also known as vitamin B9, is a water-soluble B vitamin that is essential for a variety of bodily functions. It plays a key role in DNA synthesis, cell growth, and development. It is particularly important during periods of rapid growth and development, such as during pregnancy and infancy. Additionally, it also plays an important role in mental and emotional health. 
The terms "folic acid" and "folate" are often used interchangeably. Folate is a general term that encompasses the various forms of vitamin B9, including dihydrofolate (DHF), tetrahydrofolate (THF), 5, 10-methylenetetrahydrofolate (5, 10-MTHF), and 5-methyltetrahydrofolate (5-MTHF). Folic acid, on the other hand, is the synthetic form of folate that is commonly used in supplements and fortified foods such as bread, pasta, rice, and breakfast cereals.
Why are folic acid supplements needed?
Because many people do not consume enough folic acid through their diet alone, supplements are often recommended to ensure adequate intake. If a woman consumes enough folic acid (400 micrograms (mcg) daily) before and during early pregnancy, it can help prevent her baby from having a neural tube defect. Therefore, it is recommended for women who are trying to conceive as well as pregnant women. Folic acid supplements also may prevent atherosclerosis and some malignant neoplasms.
Additionally, it is also recommended to treat folate deficiency anemia and inflammatory bowel disease. 
Lastly, it is also considered to be an effective tool in alcohol withdrawal regimens.
However, it is important to note that folic acid supplements should be taken under the guidance of a healthcare professional or doctor, as too much folic acid can have adverse effects.
Are folic acid supplements useless and harmful?
No, there is a lack of credible evidence to prove that folic acid supplements are useless or harmful when taken in the right amounts and as directed by a healthcare professional. Folic acid is an essential nutrient that plays a crucial role in many bodily functions, and a deficiency can lead to serious health problems.
While it is true that some studies have suggested that excessive folic acid intake may be associated with certain health risks, such as increased risk of certain cancers, it is important to note that these studies indicate the relation between excessive consumption of folic acid and cancer. In addition, many of these studies have been observational in nature, meaning that they cannot establish cause-and-effect relationships. There are various other factors to be considered while evaluating this.
Also, there are studies which indicate that inadequate folate intake or deficiency may increase the risk for cancer, including cancers of the head and neck, oral cavity and pharynx, esophagus, pancreatic, bladder, and cervix.
Lastly, like any other medicine, consuming folic acid supplements can cause side effects, such as nausea, diarrhea, loss of appetite, bloating, etc. However, these usually subside over time. But, in rare cases, it can cause severe problems, such as the masking of vitamin B12 deficiency, anaphylaxis, etc. 
In conclusion, when taken in appropriate amounts, folic acid supplements can be very beneficial, particularly for pregnant women and those with certain medical conditions. However, it is important to consult with a healthcare professional before taking any supplements and to follow their recommendations for dosage and duration of use.
Disclaimer: Medical Science is an ever evolving field. We strive to keep this page updated. In case you notice any discrepancy in the content, please inform us at [email protected]. You can futher read our Correction Policy here. Never disregard professional medical advice or delay seeking medical treatment because of something you have read on or accessed through this website or it's social media channels. Read our Full Disclaimer Here for further information.