Quick Take
A social media post claims eating papaya during pregnancy cause miscarriage. We fact-checked and found the claim to be Mostly False.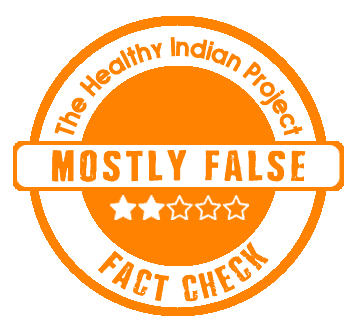 The Claim
An Instagram post claim that papaya during pregnancy is unsafe as eating it can lead to miscarriage. The post has received 1,163 likes till we last checked.
The screenshot of the post is attached below:
Fact Check
Does eating papaya during pregnancy cause miscarriage?
In a certain scenario. There is no scientific evidence to support the idea that eating papaya during pregnancy causes miscarriage. In fact, papaya is a nutritious fruit that can provide various health benefits to pregnant women, including a good source of vitamins, minerals, and fiber. Self-induced abortion performed by the pregnant woman on herself under the supervision of no non-medical professional can come up with many complications, some being life-threatening. THIP MEDIA has previously debunked abortion be done at home safely and naturally.
Dr Aruna Kalra, Senior Gynecologist and Obstetrician at CK Birla Hospital, Gurgaon, says, "The truth is that eating papaya does not cause abortion'.
However, available evidence notes that eating unripe or semi-ripe papaya can lead to uterine contractions, which can be harmful during pregnancy.
The results of an old study done on rats informed that unripe papaya can interrupt the estrous cycle and induce abortions. However, this property reduces as the fruit ripens. Exogenous progesterone (a hormone) counteracts partially the adverse effects on pregnancy and the surviving fetuses are without any distinct malformations.
Another study suggests that unripe or semi-ripe papaya contains latex that can induce uterine contractions to complicate the pregnancy.
Dr. Altamash Shaikh, Consultant Endocrinologist, Diabetologist, and Metabolic Super Specialist at Masina, Prince Aly Khan Hospital, Mumbai, "Traditionally and culturally, many food taboos have been associated with pregnancy. Papaya is one of the most talked about fruit for pregnancy. Raw papaya can interrupt certain pregnancy hormones and may induce some uterine contractions, however, it's insufficient to cause an abortion."
Therefore, it is recommended to consume ripe papaya and to consult with your doctor before making any changes to your diet during pregnancy. Overall, as long as you eat papaya in moderation and avoid consuming unripe or semi-ripe papaya, there is no reason to believe that it will cause a miscarriage.
Disclaimer: Medical Science is an ever evolving field. We strive to keep this page updated. In case you notice any discrepancy in the content, please inform us at [email protected]. You can futher read our Correction Policy here. Never disregard professional medical advice or delay seeking medical treatment because of something you have read on or accessed through this website or it's social media channels. Read our Full Disclaimer Here for further information.