Quick Take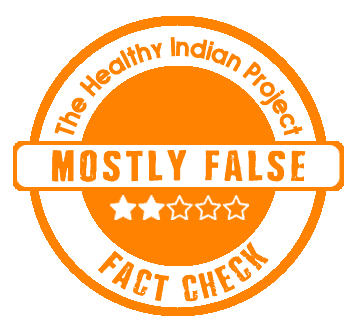 A social media post is claiming that abortion can be done at home safely and naturally. We fact-checked and found this claim to be Mostly False.
The Claim
A video on social media shows 'how to abort a pregnancy at home safely and naturally ?'
Fact Check
What is a self-induced abortion?
Dr. Manzer Altamash Shaikh, Consultant Obstetrician, Gynaecologist, and Fertility Specialist, Masina Hospital, Mumbai, explains, "Self-induced abortion is an abortion performed by the pregnant woman herself or with the help of untrained non-medical personnel either by over-the-counter medications or through a quack. It is associated with many complications, some being life-threatening. These methods are often tried during first two months of pregnancy."
What are the side effects of self-induced abortion?
Dr Shaikh further narrates, "Some of the side effects of self-abortion are incomplete abortion leading to continuous vaginal bleeding, anemia, infection of the womb, or sepsis spreading in the whole body. If done through quacks can cause perforation of the uterus and may be potentially lethal to the life of the pregnant woman causing death."
Is abortion safe at home?
No. According to the World Health Organization, an estimated 22 million abortions continue to be performed unsafely each year, resulting in the death of an estimated 47,000 women and disabilities for an additional 5 million women. Plus, about 1 in 4 women who have an unsafe abortion are left with serious health issues that require ongoing medical care.
Almost every one of these deaths and disabilities could have been prevented through proper sex education, family planning, and the provision of safe & legal abortion and care for complications of abortion.
Can abortion be done at home safely using home remedies such as papaya and Vitamin C?
No. The results of a study on rats indicate that unripe fruits of papaya interrupt the estrous cycle and induce abortions. The abortifacient property seems to decrease as the fruit becomes stale or ripe. Exogenous progesterone (a hormone) counteracts partially the adverse effects on pregnancy and the surviving fetuses are without any distinct malformations.
Another study suggests that normal consumption of ripe papaya during pregnancy may not pose any significant danger. However, the unripe or semi-ripe papaya (which contains a high concentration of latex that produces marked uterine contractions) could be unsafe in pregnancy. Though it doesn't necessarily lead to miscarriage, it may lead to certain complications, therefore should be avoided.
There is no credible scientific information suggesting that vitamin C has any effect on pregnancy, implantation, or menstruation. A 2016 review of existing studies found that taking vitamin C had no effect on someone's risk of having a spontaneous miscarriage.
Can self abortion happen through diet?
According to Dr Shaikh, "Traditionally and culturally, many food taboos have been associated with pregnancy and are linked to abortion. And these are used for self-abortion. Two of the commonly used foods for self-abortion are papaya and pineapple. However, consumption of any fruit or food item can't cause abortion.
Papaya or raw papaya (Carica papaya linn) interrupts certain pregnancy hormones and may induce some uterine contractions however it's insufficient to cause an abortion. Likewise, pineapple (Ananas comosus) has been traditionally linked to abortion which is untrue. Therefore, the myths that diet can induce self-abortion needs to be strongly busted, and patients should be encouraged to seek medical help."
Medical or surgical abortion is recommended as trying abortion on your own is absolutely not safe and pregnant women are requested to abstain from trying such procedures as it may lead to many complications or may even be fatal.
Disclaimer: Medical Science is an ever evolving field. We strive to keep this page updated. In case you notice any discrepancy in the content, please inform us at [email protected]. You can futher read our Correction Policy here. Never disregard professional medical advice or delay seeking medical treatment because of something you have read on or accessed through this website or it's social media channels. Read our Full Disclaimer Here for further information.