Is the new COVID variant more contagious?
Not exactly. The available evidence is not enough to confirm whether the new COVID variant is more contagious than previous ones. Also, U.S. Centers for Disease Control and Prevention (CDC) and other official websites have not made such a statement.
Quick Take
A social media post claims that the U.S. Centers for Disease Control and Prevention has said a new COVID-19 variant is more contagious among vaccinated people. We fact-checked and found the claim to be Mostly False.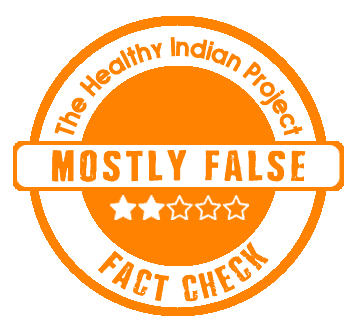 The Claim
An Instagram post featured an image depicting a virus alongside a photograph of a man receiving a vaccination.
The post contains a statement that claims, 'according to the CDC, the latest COVID variant appears to spread more easily among vaccinated than unvaccinated individuals'. The post has received 425 likes till we last checked.
We have attached the screenshot of the post below:
Fact Check
Did the CDC say a new COVID-19 variant is more contagious among vaccinated people?
Not exactly. There is no information available right now that confirms CDC has made such a statement. We found no credible information that confirms that a new COVID-19 variant is more contagious among vaccinated people.
As new COVID variants keep emerging, scientists are working hard to figure out how strong they are. But in this case, the post twists something said in CDC guidance to make an incorrect claim. The CDC said the new variant, called BA.2.86 or Pirola, might be better at infecting people who already had COVID-19 or got vaccinated. This does not mean it is more contagious among vaccinated people than unvaccinated people. The CDC is just saying that if you had COVID-19 before or got vaccinated, you might still be at risk from this new variant.
The CDC is worried that this new variant might be better at getting past the immunity you get from vaccines or past infections, more than other variants we have seen recently. The new variant has been found in the U.S. and a few other countries. There is no good proof that people who got the COVID-19 vaccine are at more risk of getting sick than people who did not. Actually, the CDC said in February that people who got vaccinated were 14 times less likely to die from COVID-19 than those who did not get the vaccine. The increase we saw in the COVID-19 cases cannot be blamed on the vaccines. Vaccines do not spread the COVID-19 infection. The vaccines were launched to prevent death and critical conditions from COVID-19. The CDC keeps saying that the vaccines are really good at stopping severe sickness, hospitalization, and death in adults, kids, and teenagers. We have previously debunked another claim that says the FDA has banned COVID-19 vaccines in 2023. Similarly, misinformation related to a new COVID variant called ID-10T is also debunked by THIP Media.
Disclaimer: Medical Science is an ever evolving field. We strive to keep this page updated. In case you notice any discrepancy in the content, please inform us at [email protected]. You can futher read our Correction Policy here. Never disregard professional medical advice or delay seeking medical treatment because of something you have read on or accessed through this website or it's social media channels. Read our Full Disclaimer Here for further information.