Can acupressure help in infertility?
Not really. Though massaging has immense benefits for human body, it cannot be ascertained that it can cure infertility. The cause behind infertility could be anything and it may vary in males and females. Even some conditions would require surgical intervention to treat them. Further studies are required to determine the efficacy of massaging certain points to cure infertility.
Quick Take
A social media post claims a woman can get a fertile cycle in three months by massaging specific pressure points. We fact-checked and found this claim to be Half-true.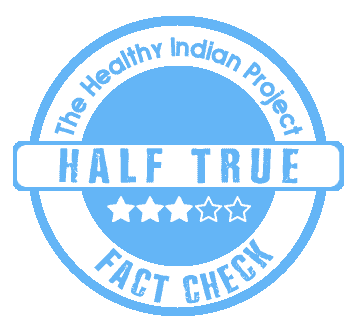 The Claim
A Facebook post reads, "How women can get a fertile cycle in just three months!
By massaging certain pressure points, the brain is signalled to send energy and nutrients to a specific area to the ovaries and uterus."
Fact Check
The WHO defines infertility as a "Disease of the male or female reproductive system defined by the failure to achieve a pregnancy after 12 months or more of regular unprotected sexual intercourse."
What are the various causes of infertility in women and men?
In males, infertility can result from the absence or low levels of sperm, difficulty in the ejection of semen, or abnormal shape and motility of the sperm.
While in females, infertility can result from any abnormality in the female reproductive organs, such as in the ovaries, uterus, fallopian tubes, and the endocrine system, among others.
The most common overall cause of female infertility is the failure to ovulate, which occurs in 40% of women. Problems with the menstrual cycle, structural problems of the reproductive system, infection, uterine fibroids, PCOS, and autoimmune disorders are a few other causes that can also lead to infertility.
How can one treat infertility?
The treatment depends on various factors, such as the patient's age, how long infertility has lasted, personal preferences, and general health status.
The treatment for infertility includes various options, such as medications and embryo implantation through Assisted Reproductive Technology (ART). The medications can vary from person to person. These depend on the condition, like fertility drugs that are given to induce or regulate ovulation, medications for erectile dysfunction, etc. Surgical options are also for conditions such as endometriosis, blocked fallopian tubes, etc.
Can infertility be cured by massaging certain points on the ankle?
Not exactly. It is believed that massaging certain points or practicing acupressure can be beneficial for the body, but there is a lack of study in proving that it can cure infertility. Massaging certain points might be beneficial for the body as it can increase circulation and lymphatic flow and help relieve stress, but infertility is a complicated issue.
The cause behind infertility could be any physical abnormalities, such as blocked fallopian tubes or fibroids or cysts in the ovary, which cannot be treated through such practices. Such conditions need medical or surgical interventions in order to help with fertility. There is no proven evidence that these conditions can be treated or cured by massaging certain points.
Senior Physiotherapist Upma Lal says, "Infertility should be diagnosed by a gynecologist. If the cause is a physical or anatomical anomaly, then only a surgical procedure and a gynecological treatment can treat the patient. However, if the reproductive system of both partners is normal, and then too, are unable to conceive, then acupressure can be tried as an alternative therapy for improving fertility."
Moreover, as per research published in the Journal of Education and Health Promotion, acupressure did not statistically improve self-efficacy and pregnancy occurrence in infertile women. However, further studies are recommended on this.
Additionally, stress is reported in many infertile women and even though it can't alone cause infertility but might even interfere with a woman's ability to get pregnant. Massage therapy is believed to aid in relieving stress, anxiety and depression; however, it is believed to help only in the short term.
The American College of Obstetricians and Gynaecologists states that using non-conventional therapies by women and integrative care is very high. Disinformation exists, and many women engage in non-conventional therapies without medical advice and sometimes following diet modifications such as eating gooseberry or guava leaves to cure infertility. It can sometimes benefit them but also possibly delay the needed care and place themselves at risk.
Disclaimer: Medical Science is an ever evolving field. We strive to keep this page updated. In case you notice any discrepancy in the content, please inform us at [email protected]. You can futher read our Correction Policy here. Never disregard professional medical advice or delay seeking medical treatment because of something you have read on or accessed through this website or it's social media channels. Read our Full Disclaimer Here for further information.