Can guava leaves cure infertility?
Not exactly. There is a lack of evidence to prove that guava leaves can cure infertility. Guava leaves are rich in various nutrients, and there are a few pieces of research which determine the beneficial effects of guava leaves on fertility, but these need further research to consider them as a treatment modality. Therefore, the claim is mostly false until proven otherwise.
Quick Take
A social media post claims that Guava leaves can cure infertility. We fact-checked and found the claim to be Mostly False.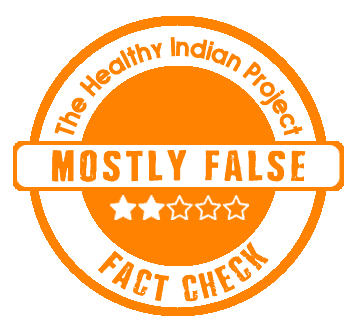 The Claim
A Facebook post reads, "GUAVA LEAVES: is a great source of fertility boosting nutrients which are rich in vitamin C, calcium, vitamin B2, niacin vitamin E, and magnesium. Guava leaves include a high content of folic acid as vitaB9. A screenshot has been attached below:
Fact Check
What is infertility?
The WHO defines infertility as a "Disease of the male or female reproductive system defined by the failure to achieve a pregnancy after 12 months or more of regular unprotected sexual intercourse."
What are the various causes of infertility in women?
In cases of males, infertility can result from absence or low levels of sperm, difficulty in inejection of semen, or abnormal shape and motility of the sperm.
While in females, infertlity can result from any abnormality in the female reproductive organs, such as in the ovaries, uterus, fallopian tubes, and the endocrine system, among others.
The most common overall cause of female infertility is the failure to ovulate, which occurs in 40% of women. Problems with the menstrual cycle, structural problems of the reproductive system, infection, uterine fibroids, PCOS, autoimmune disorders are few other causes that can also lead to infertility.
How can one treat infertility?
The treatment depends on various factors, such as the age of the patient, how long infertility has lasted, personal preferences, and their general health status.
The treatment for infertility includes various options, such as medications, embryo implantation through Assisted Reproductive Technology (ART). The medications can vary from person to person. These depend on the condition, like fertility drugs that are given to induce or regulate ovulation, medications for erectile dysfunction, etc. Surgical options are also for conditions such as endometriosis, blocked fallopian tube, etc.
Can guava leaves cure infertility?
Not exactly. There is no credible scientific evidence in proving that guava leaves can cure infertility. Guava leaves have been used traditionally in various countries for various disorders and is considerably used for alimentotherapy (treating various diseases through dietetic methods).
The speculations of Guava leaves being a cure for infertility arise due to its richness in fiber, folate, and vitamin C. Furthermore, there are some research that proves that Guava and Guava leaves both have beneficial effects when it comes to increase the production and quality of sperms. But improving the sperm production is not similar to curing infertility which can be due to multiple medical conditions.
There is a study done on the leaves of Psidium guajava Linn. (guava) which suggests that due to the presence of antioxidants, they might have a beneficial effect on gossypol-associated sperm toxicity and may therefore enhance male fertility.
Another study on rats also suggested that the extracts of the guava leaves possess beneficial effects on sperm production and quality.
Please be noted that the above-mentioned studies were performed on rats, and human trials are needed to prove the same effects on humans.
There is another research shows that ethanolic extract of guava can increase the sperm quality as well as quantity and can be used for the treatment of infertile males. But, this research is done on the fruit and not the leaves.
Clinical Nutritionist Nidhi Sarin opines her view by commenting, "Guava is a very nutritional fruit and is a great source of Vitamin C, fibre and antioxidants, but there isn't any proven research that guava leaves cure infertility."
It must be noted that there are scant studies with respect to guava leaves being beneficial for female fertility. The causative agent for fertility is different in men and women and it is not possible for a single approach that can be used to cure fertility in both as the causes are different.
THIP Media has fact checked some similar claims suggesting that cupping can cure infertility, and eating gooseberry can improve fertility.
Disclaimer: Medical Science is an ever evolving field. We strive to keep this page updated. In case you notice any discrepancy in the content, please inform us at [email protected]. You can futher read our Correction Policy here. Never disregard professional medical advice or delay seeking medical treatment because of something you have read on or accessed through this website or it's social media channels. Read our Full Disclaimer Here for further information.