Can you tighten your skin with bananas and coffee?
Banana and coffee paste may be beneficial to the skin. It is not, however, a cure for skin laxity. Due to a lack of proper dosage and delivery systems for the two ingredients, they cannot be relied on for skin tightening.
Quick Take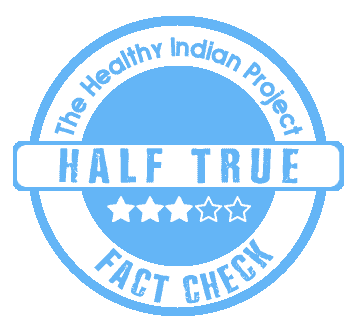 According to a popular Instagram post, a banana and coffee paste would help with facial skin tightening and a healthy glow. We analyzed the claim. Our findings indicate that the assertion is only Half True.
The Claim
An Instagram post titled "Did You Know?" suggests that a facial massage with a banana-and-coffee paste could help with rapid skin tightening. Moreover, it would enhance facial radiance. A screenshot of the post has been provided below:
What exactly is skin laxity?
Skin laxity occurs when the skin loses its firmness and structural elasticity. Skin laxity is one of the signs of aging. It is important to note that skin aging can be intrinsic or extrinsic. Intrinsic aging is a slow and natural process. Extrinsic aging, on the other hand, refers to premature aging that is accelerated by environmental factors such as excessive sunlight exposure, pollutants, toxins, stress, and lifestyle-related factors.
Is a banana-coffee paste good for skin tightening?
Yes, to a certain extent. This is due to the fact that both bananas and coffee have some skin benefits. Bananas are high in antioxidants, which aid in the fight against free radicals in the body. Thus, applying bananas to the skin may help protect it from free radical damage. Additionally. Banana phenols are thought to be beneficial in the treatment of acne scars and skin tightening. However, this anti-acne action may not be effective. Furthermore, bananas may promote healthier skin. Please keep in mind that bananas should be avoided if users develop rashes, itchy skin, facial swellings, or any other allergic reaction to them.
Caffeine, on the other hand, is present in coffee. Coffee polyphenol compounds have antioxidant effects. Since they neutralize free radicals, they could be used as anti-wrinkle and anti-aging agents. This antioxidant property slows the photoaging process of the skin. Furthermore, some studies have suggested that adding caffeine to the formula of sunscreen cosmetics increases their UV radiation protection, reduces the formation of free radicals in skin cells, and could be useful in preventing UV-induced skin cancers. Caffeine is a biologically active compound due to all of its characteristics. However, there is little data on the precise dosage and delivery systems of the two ingredients for skin tightening. As a result, both ingredients require additional research.
Is it risky to treat skin laxity and wrinkles solely with natural remedies?
Yes, it would be a risk for now. Despite the fact that botanical extracts are becoming increasingly popular for skin protection against erythema, premature aging, and cancer caused by irradiation, many more controlled clinical trials are required to assess the effectiveness and uncertainties of plant-derived products in dermatology. Furthermore, safety concerns, particularly sensitization and photodermatitis, require attention. Green and black tea, carotenoids, coffee, and many flavonoids found in fruits and vegetables are among the most popular natural options. However, the most widely accepted skin tightening therapies include prescribed topical retinal and collagen applications, non-invasive laser skin procedures, light source and radiofrequency treatments, surgical facelift procedures, and Ultherapy.
THIP MEDIA TAKE: We conclude that banana and coffee paste may be beneficial and safer for the skin. However, it is not a cure for skin aging. Because of the lack of proper dosage and delivery system for the two ingredients, they cannot be relied on for skin tightening. As a result of our analysis, the assertion is half true.
Disclaimer: Medical Science is an ever evolving field. We strive to keep this page updated. In case you notice any discrepancy in the content, please inform us at [email protected]. You can futher read our Correction Policy here. Never disregard professional medical advice or delay seeking medical treatment because of something you have read on or accessed through this website or it's social media channels. Read our Full Disclaimer Here for further information.