Can graying of hair be reversed?
No. Graying of hair is primarily a result of natural aging and genetics. There is no scientific evidence supporting the effectiveness of this concoction, and attempting such treatments without proper guidance can be harmful. Hair graying cannot be magically reversed in minutes.
Quick Take
A social media post claims that a mixture of Coca-Cola, soya sauce, honey and charcoal reverse graying of hair. We fact-checked and found this claim to be False.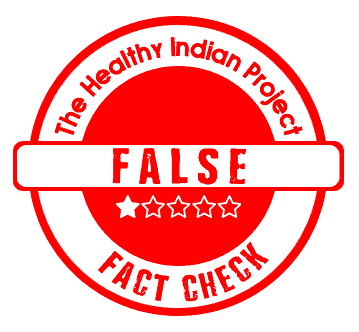 The Claim
A Youtube video with the caption, "White hair to black hair naturally in just 4 minutes with Coca Cola 100% working at home" shares a video in which a woman applies a concoction of Coca-cola, soya sauce, honey and charcoal which the narrator claims to magically change the hair color from gray to black.
Fact Check
Why does our hair turn grey?
Greying of hair is a natural phenomenon with age. Harvard Health states that the hair follicles produce less color with age, so when hair goes through its natural cycle of dying and being regenerated, it's more likely to grow in the gray beginning after age 35. There is a major role of genetics in this process.
Additionally, there are multiple other medical conditions that can contribute to the early onset of greying of hair, popularly known as premature greying. The reasons include vitamin deficiency, thyroid disease, vitiligo, and alopecia.
Many people believe even stress contributes to greying of hair. However, there is very little scientific conclusive evidence for the same. Studies even suggest that under stress hair turns grey in mice. But whether the same phenomenon works on the human body is still not yet known.
Can the whitening of hair be reversed?
No. Despite multiple marketing claims by product makers, the greying of hair can never be reversed. Cosmetic coloring aside, once a hair follicle produces hair, the color is set and cannot be changed. The Harvard Blog states that If a single strand of hair starts out brown (or red or black or blond), it is never going to change its color (unless you color your hair).
Dr. Swati Watwani, Dermatologist and Medical Director, Persianlily – Skin/Hair/Aesthetics/Ayurveda Clinic says, "Graying of hair starts when you are in your late 40s and early 50s. Premature graying of hair can start as early as in the 20s. So premature hair graying can be slowed down by finding out the cause and treating it accordingly. But it cannot be reversed completely."
Can a Coca-Cola concoction reverse the graying of hair in 4 minutes?
No. There is no scientific evidence to suggest that Coca-Cola, soy sauce, honey, or charcoal can reverse graying of hair. Graying of hair is primarily caused by a decrease in melanin production, which is a natural part of the aging process. These common food and household items do not have the ability to reverse this natural biological change. Also, it is impossible to magically reverse the graying of hair in 4 minutes.
Dr Ratnakar Shukla MBBS, MD, consultant at Dermagenix states, "Coca-Cola and other aerated drinks have phosphoric acid, which has a very low pH level, which tightens the cuticle and makes the hair strands smooth, and shiny. But they can cause premature greying. Aerated drinks have soda which is loaded with high amounts of sugar, and colour which adversely affects your hair health. Similarly, charcoal has a range of benefits for hair, in that it exfoliates and detoxifies, removing oil, grime and buildup.
Dr Reena Majithia, Consultant Dermatologist and cosmetologist further confirms, "Hair graying is primarily a result of the natural aging process, and it is influenced by genetic factors. It occurs when the pigment-producing cells in the hair follicles gradually decrease in activity. This reduction in pigment production leads to the appearance of grey or white hair."
Additionally, honey is a natural moisturizer and can provide needed hydration to both the skin of the scalp and the hair itself. Its natural humectant qualities work to seal in the moisture and prevent transepidermal water loss. Honey's antibacterial and anti-inflammatory properties help to fight and prevent dandruff. Honey can prevent damage, strengthen hair and reduce breakage of hair strands which will help hair grow longer. However, it can cause stickiness and some people may be allergic to it.
Lastly, using charcoal bleach involves the use of chemicals like hydrogen peroxide, which can cause skin irritation and hair damage, especially when too much is used or precautions are not taken."
Attempting to use such products on your hair without proper knowledge or guidance can be harmful. It's essential to be cautious about unconventional hair treatments, as they may not be safe and could lead to adverse effects.
People tend to believe in several home remedies such as putting oil through the nose can impact greying of hair, using tomatoes and coffee can turn grey hair into black, onion juice can reverse greying of hair, and so on. If you're concerned about graying hair or wish to address this issue, it's advisable to consult a dermatologist or a qualified healthcare professional who can provide appropriate guidance and recommendations for managing or coloring your gray hair safely.
Disclaimer: Medical Science is an ever evolving field. We strive to keep this page updated. In case you notice any discrepancy in the content, please inform us at [email protected]. You can futher read our Correction Policy here. Never disregard professional medical advice or delay seeking medical treatment because of something you have read on or accessed through this website or it's social media channels. Read our Full Disclaimer Here for further information.