Quick Take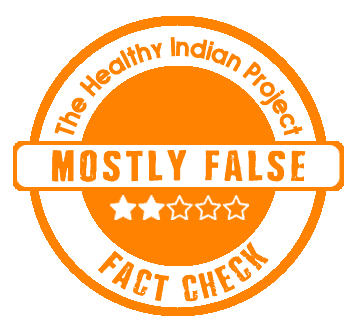 A number of social media posts claim that rubbing Onion juice on the scalp will make white hairs black. We fact-checked and found that the claim is mostly false.
Quick Take
"White hair also turns black by applying onion juice to hair," claims a number of Facebook posts, Instagram posts, and YouTube videos. Few of the posts and videos even use images that suggest an instant colouring effect when onion juice is used on greying hair. Such posts can be seen here, and here. A screenshot is given below.
Fact Check
Why does our hair turn grey?
Greying of hair is a natural phenomenon with age. The Harvard Health Blog says, "Your hair follicles produce less color as they age, so when hair goes through its natural cycle of dying and being regenerated, it's more likely to grow in as gray beginning after age 35. Genetics can play a role in when this starts."
There are multiple other medical conditions that can contribute to the early onset of greying of hair, popularly known as premature greying. The reasons include vitamin deficiency, thyroid disease, vitiligo, and alopecia.
Many people believe even stress contributes to greying of hair. However, there is very little scientific conclusive evidence for the same. A study was done on mice in 2020, showed that under stress their hair turned grey. But whether the same phenomenon works on a human body is still not yet known.
Can the whitening of hair be reversed?
Despite multiple marketing claims by product makers, greying of hair can never be reversed. Cosmetic coloring aside, once a hair follicle produces hair, the color is set and cannot be changed. The Harvard Blog says, "If a single strand of hair starts out brown (or red or black or blond), it is never going to change its color (unless you color your hair)."
Trichologist Dr. Swati Watwani says, "Graying of hair starts when you are in your late 40s and early 50s. Premature graying of hair can start as early as in the 20s. So premature hair graying can be slowed down by finding out the cause and treating it accordingly. But it cannot be reversed completely."
Can Onion oil reverse the colour of hair from white to black?
There is no medical research to prove that onion oil has any color-changing effect on hair. However, a lot of alternative medical practices talked about the benefits of onion juice on greying hair. Onions contain an antioxidant that is thought to be especially beneficial in stopping future hairs from turning grey from the roots. However, this does not mean that white hair will turn black.
Does Onion juice have any other hair benefits?
Research has proven that onion juice has a number of hair benefits including its ability to treat alopecia, treat dandruff and itchy skin.
Dr. Watwani says, "Onion juice may boost scalp microcirculation as it also contains anti-inflammatory and anti-microbial properties. Applying onion juice to hair and scalp could increase blood supply to hair follicles, which, in turn, improves hair growth. But there is no scientific evidence to claim that it will turn grey hair black."
Disclaimer: Medical Science is an ever evolving field. We strive to keep this page updated. In case you notice any discrepancy in the content, please inform us at [email protected]. You can futher read our Correction Policy here. Never disregard professional medical advice or delay seeking medical treatment because of something you have read on or accessed through this website or it's social media channels. Read our Full Disclaimer Here for further information.