Is mammogram not a useful tool for breast cancer detection?
Not really. Mammograms are an important screening tool for breast cancer detection, but they come with risks and limitations due to low-dose X-ray exposure, potential false results, and discomfort during compression. Despite these, they are generally safe and effective, recommended for breast cancer screening. Early detection through mammography improves treatment outcomes and survival rates. However, mammograms may not be 100% accurate, especially for dense breast tissue.
Quick Take
Several social media posts question the safety and effectiveness of a mammogram. We found various posts which state that mammograms are harmful and ineffective. We fact-checked and found this claim to be Mostly False.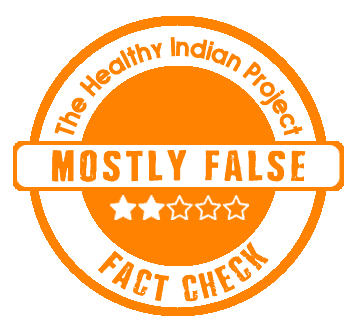 The Claim
A Twitter post with the caption, "Mammograms proven harmful & ineffective … Thermography is a safe alternative" shares an image which also states the same. Another post on a website titled, "Stop Getting Mammograms – There Is A Safer & Cheaper Way To Test For Breast Cancer!" also stated the same. However, it has updated its content now.
Fact Check
What is a mammogram?
A mammogram is a type of medical imaging test that produces an X-ray picture of the breast. It is commonly used for breast cancer screening in women who have no signs or symptoms of the disease, as well as for diagnostic purposes in women who have breast lumps, pain, or other abnormalities. The ones that are used for screening are called screening mammograms, and those which are used for diagnostic purposes are called diagnostic mammograms. The procedure allows the detection of various abnormalities, such as breast cancers, benign tumours, and cysts, before they can be detected by palpation (touch).
Are mammograms harmful?
Not exactly. Mammograms are an important screening tool for breast cancer detection, but they come with some risks and limitations. The low-dose X-rays used in mammograms expose women to a small amount of radiation, which can potentially increase the risk of radiation-induced breast cancer if the doses are in high amounts and frequency. It is important to note that mammograms are generally considered safe as long as the woman goes to a facility that is certified by the regulating agencies and is done under the guidance of a healthcare professional.
Additionally, false-positive (indicating a potential abnormality when no cancer is present) and false-negative (missing cancer that is present) results can also occur, leading to unnecessary tests or missed diagnoses. Furthermore, compression during the procedure may cause discomfort. There's a risk of overdiagnosis, where non-life-threatening abnormalities are detected, leading to unnecessary treatments. Despite these risks, mammograms are recommended for breast cancer screening, and women should consult with their healthcare providers to weigh the benefits and risks based on individual factors.
Dr. Sarthak Moharir, Chief Radiation Oncologist Apollo Cancer Centre, Bilaspur, clarifies this by stating, "Mammograms are the gold standard for breast cancer screening. The radiation received by one mammogram exam is about 0.4mSv. An average individual is exposed to about 3mSv of radiation per year. So a 10-year exposure of 4mSv for a potentially life-saving intervention is negligible. Simply put, the risk-benefit ratio of getting a mammography is more beneficial than any supposed risk.
Additionally, in today's day and age, we have moved towards Sono-mammography, which uses no radiation, hence eliminating any radiation risk whatsoever."
Are mammograms ineffective?
Not exactly. Mammograms are not considered ineffective. Mammograms are an established and widely used screening tool for breast cancer detection, and they have been proven to be effective in identifying breast cancer at an early stage. It must be noted that mammography is meant for detection and not prevention. Early detection through mammography has been associated with improved treatment outcomes and increased survival rates for breast cancer patients.
Dr. Moujhuri Nandi, Consultant Radiation Oncologist at Karkinos Healthcare Pvt. ltd., states, "Mammography is the preferred screening test for breast cancer, assessed using the BI-RADS score. Its sensitivity is 87%, better in women over 50 with less dense breasts. Key benefits include 12-40% breast cancer mortality reduction, decreased years of life lost, and lower treatment morbidity. However, it may miss 1 in 8 cancers, more common in dense-breasted women. False positives are frequent, leading to further investigations like breast MRI. Overdiagnosis causes anxiety, detecting benign as malignant. While low-dose radiation risk is minimal, repeated mammograms slightly increase cancer risk. Sono-mammography (combined breast ultrasound and mammography) is increasingly used for screening due to its favorable risk-benefit balance."
However, like any medical test, mammograms have limitations and may not be 100% accurate. As mentioned above, they can produce false-positive results and false-negative results. Additionally, mammograms may not be as effective in detecting breast cancer in women with dense breast tissue, as small cancers can be hidden by dense tissue, since both appear white on a mammogram. The more density there is, the harder it is for a radiologist to see an abnormality.
Despite these limitations, mammograms remain an essential tool in breast cancer screening, and they are recommended by medical organizations as part of routine breast cancer screening programs. Regular mammograms, along with clinical breast exams and self-breast exams, can aid in the early detection of breast cancer and increase the chances of successful treatment. Women should discuss the benefits and limitations of mammography with their healthcare providers to make informed decisions about breast cancer screening based on their individual risk factors and medical history.
Disclaimer: Medical Science is an ever evolving field. We strive to keep this page updated. In case you notice any discrepancy in the content, please inform us at [email protected]. You can futher read our Correction Policy here. Never disregard professional medical advice or delay seeking medical treatment because of something you have read on or accessed through this website or it's social media channels. Read our Full Disclaimer Here for further information.