Quick Take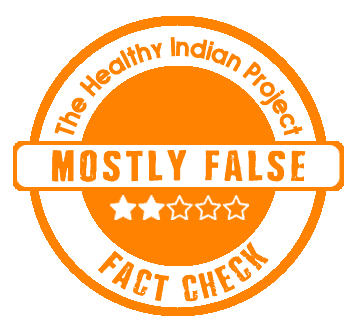 A social media post claims Scarlet fever and Strep A are treatable and don't need antibiotics. In fact, the consumption of antibiotics can damage the gut and immune system. We fact-checked and found this claim to be Mostly False.
The Claim
A section of a Facebook post reads, "To the parents, PLEASE don't live in FEAR (it's bad for your immune system and will suppress it).
Scarlet fever and Strep A is very treatable and don't need antibiotics. It's very easy for people to ask for them and think it's a quick FIX, but it will damage your gut and immune for a long time. You won't want that.
Antibiotics should be GIVEN when it's a life and death situation, not for something simple like these illnesses, when it can be treated with natural remedies."
Fact Check
What is Scarlet Fever?
Scarlet fever is a contagious bacterial illness that mostly affects children. The causative agent is a bacteria called group A Streptococcus (group A strep). The same bacteria is also the causative agent of strep throat. The bacteria sometimes make a toxin (poison), which causes a distinctive pink-red rash, the 'scarlet' of scarlet fever. The rash can spread over the body and is also bumpy, so it's sometimes called a sandpaper rash. It is also accompanied by fever, a white-coloured coating on the tongue, chills, stomach pain, nausea, etc. Lastly, scarlet fever is also known as Scarlatina.
Should antibiotics not be used for treating Scarlet fever?
Not exactly. An antibiotic treatment regime is the ideal treatment recommended for Scarlet fever. The choice of drug is penicillin or amoxicillin and cephalosporins (in case of penicillin allergy). These medications are given to shorten the duration of symptoms, reducing the likelihood of transmission and preventing complications.
The CDC recommends that if a child has scarlet fever, antibiotics can help the child feel better faster and prevent long-term health problems. The NHS also puts why antibiotics are necessary by stating that scarlatina is a serious illness, but with the use of antibiotics, it becomes easily treatable.
It must be noted here that antibiotics are not just used to treat the patient but also help protect others from getting sick. Antibiotics kill bacteria or prevent them from reproducing and spreading.
Dr. Kashyap Dakshini, General Physician practicing in Mumbai, further elaborates on this by stating, "Scarlet fever is treated by a course of antibiotics for 10 days. There is no documented scientific evidence published in any reputed journal with respect to the treatment of scarlet fever without antibiotics with success."
If timely treatment is not given, the patient is put at risk of various complications, such as ear infection, sinusitis (inflammation of the sinus), throat abscess (a painful collection of pus), pneumonia (inflammation of the lungs) and in rare cases can cause life-threatening complications, such as bacteremia, septic arthritis, meningitis, necrotizing fasciitis and streptococcal toxic shock syndrome.
Researchers state that around 5% of those with untreated streptococcal infection, such as strep throat or scarlet fever, will develop rheumatic fever.
It is true that fever is a part of the body's immune response, but high temperatures should always be treated as per medical advice. In general, antibiotics are considered safe if used correctly, and serious side effects are rare. However, overprescribing antibiotics is associated with an increased risk of adverse effects.
Disclaimer: Medical Science is an ever evolving field. We strive to keep this page updated. In case you notice any discrepancy in the content, please inform us at [email protected]. You can futher read our Correction Policy here. Never disregard professional medical advice or delay seeking medical treatment because of something you have read on or accessed through this website or it's social media channels. Read our Full Disclaimer Here for further information.