Quick Take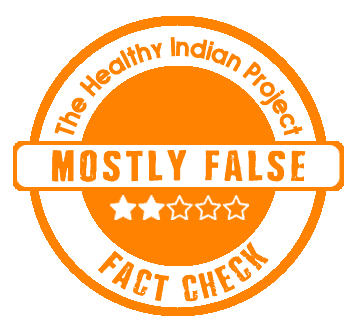 A social media post claims that Apple AirPods are dangerous because they emit radiation which is harmful to the human body. We fact-checked and found the claim to be Mostly False.
The Claim
A Facebook post says, "Airpods sir right near your skull. They transmit RFR directly next to your brain and ear, and the RFR is absorbed into your brain and ear tissues". This post also claims, "The left AirPod communicates with the right AirPod using a technology called "near field magnetic induction" (NFMI). The fields go right though your brain. Magnetic fields are linked to cancer and oxidative stress".
Fact Check
What is radiation?
Radiation includes electric, magnetic and electromagnetic fields that have wave-like properties. Radiation is released from both natural and man-made sources.
The electromagnetic fields (EMF) are of two types: low-level non-ionizing radiation and high-level ionising radiation. The available evidence suggests that ionising radiations can damage cells or induce cancer. However, whether non-ionizing radiation causes cancer or not has been widely speculated by researchers throughout the globe. But there is no evidence to confirm the same.
Is radiation from Apple airpods dangerous?
It does not seem so. The available evidence does not confirm whether Apple AirPods are dangerous and cause irreparable damage to the human body. The concern might have arisen from AirPods having Bluetooth Class I transmission power as they have a lengthier operating range.
Irrespective of having a Class I transmission power, the SAR value of Apple AirPods is around 0.072 W/kg for the head and 0.603 W/kg for the body. Apple has also provided SAR values for the AirPods variant. The radiation exposure assessments for AirPods (3rd generation) are available here and here. Likewise, for AirPods Pro here and here, AirPods (2nd generation) here and here and AirPods (1st generation) here and here. These SARS values comply with the standards set by the Federal Communications Commission (FCC) and the Institute of Electrical and Electronics Engineers.
SAR is an abbreviation for Specific Absorption Rate, which refers to the rate at which the human body absorbs radiation per unit mass. In India, the acceptable SAR value is '1.6w/kg averaged over 1 gram of human tissue'. That being the case, Apple AirPods seem to be in the safe zone.
In general, Bluetooth devices have Class II or III transmission power. So, they tend to have SAR values around 0.30w/kg. Also, we found a (2012) study that suggests low radiation from Bluetooth devices does not damage the brain.
Besides this, Apple AirPods emit non-ionizing radiation, so there is no concrete evidence that confirms if Apple AirPods cause cancer.
While searching about magnetic fields and cancer, we found a (2022) research that suggests magnetic fields might directly not cause cancer but generate oxidative stress to induce cancer. However, this study itself asks for more large-scale epidemiological studies to understand the relationship between magnetic field, oxidative stress and cancer.
The Healthy Indian Project (THIP) media has discussed the acceptable range of radiation for mobile phones as suggested by the World Health Organization (WHO). While searching the same for Bluetooth devices, we found a (2019) study that suggests Bluetooth headsets have radiation 10-400 times lower than cell phones.
In conclusion, no evidence confirms Apple AirPods are dangerous for the human body. But Bluetooth devices release radiation. Hence, we need more studies to understand the long-term impact of using Bluetooth earphones on the human body. The available evidence suggests the claim remains mostly false until proven otherwise.
Disclaimer: Medical Science is an ever evolving field. We strive to keep this page updated. In case you notice any discrepancy in the content, please inform us at [email protected]. You can futher read our Correction Policy here. Never disregard professional medical advice or delay seeking medical treatment because of something you have read on or accessed through this website or it's social media channels. Read our Full Disclaimer Here for further information.