There is no credible scientific evidence supporting a link between COVID-19 vaccinations and cancer. Reports of unusual cancer cases post-vaccination are anecdotal and unconfirmed. Medical experts emphasize that the pandemic delayed cancer treatments. Research and organizations assert no evidence of vaccines causing cancer or DNA alteration. While some studies raise questions, more research is needed. The overall consensus is that COVID-19 vaccines are safe and vital in preventing severe illness, hospitalization, and death from COVID-19. Consult your doctor for personalized guidance on vaccination concerns.
Quick Take
A social media post claims that cancers are occurring in excess after people receive COVID-19 vaccinations. We fact-checked and found this claim to be Mostly False.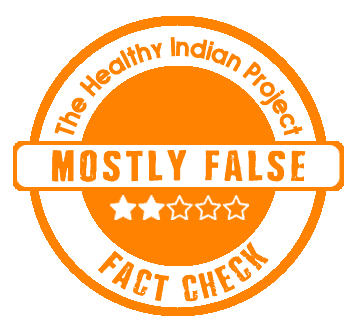 The Claim
An Instagram post reads, "Cancers appearing in ways never before seen after COVID vaccinations: Dr. Harvey Risch." The caption reads, "There is evidence that cancers are occurring in excess after people receive COVID-19 vaccinations, according to Dr. Harvey Risch.⁠
⁠
In an interview for EpochTV's "American Thought Leaders," Dr. Risch said "There is difficulty in observing whether a vaccine can cause cancer, because cancer usually takes time to develop, Dr. Risch said. It can take anywhere from two years to 30 years, depending on the different types of cancer, from leukemia to colon cancer.⁠"
Fact Check
Is Cancer appearing in never-seen ways after COVID vaccinations?
There was no credible scientific evidence to suggest that COVID-19 vaccinations were causing cancer in previously unseen ways. COVID-19 vaccines underwent rigorous clinical trials to ensure their safety and efficacy, and ongoing monitoring systems like the Vaccine Adverse Event Reporting System (VAERS) and the Vaccine Safety Datalink (VSD) continue to assess vaccine safety.
There have been some reports of cancer appearing in new and unusual ways after COVID-19 vaccinations. However, it is important to note that these reports are anecdotal and have not been confirmed by scientific research. No such disease named turbo cancer exists in science.
Dr. Sarthak Moharir, Radiation Oncologist states, "The reality is that during the Covid pandemic a lot of cancer patients were not able to get proper treatment on time because of fear of getting infected and due to elective surgeries being delayed. These patients ended up with the advanced disease. Some other patients got diagnosed incidentally because their tumor was discovered in the early stages of the disease because of all the screening HRCT thoraxes being done in India."
Research paper reveals statements indicating that it cannot establish a causal relationship between the vaccine and cancer.
Cancer.gov has established that there is no evidence that COVID-19 vaccines cause cancer, lead to recurrence, or lead to disease progression. Additionally, they do not change your DNA.
The Memorial Sloan Kettering Cancer Center also verifies this by stating that none of the vaccines interact with or alter your DNA in any way and, therefore, cannot cause cancer.
Scant evidence such as a case report published in 2021 that studied only one person to claim Angioimmunoblastic T-cell lymphoma, a type of cancer that may grow after taking the Covid vaccine.
More research is needed to determine whether or not there is a link between COVID-19 vaccinations and cancer. However, it is important to note that the benefits of COVID-19 vaccination far outweigh the risks. COVID-19 vaccines have been shown to be safe and effective at preventing serious illness, hospitalization, and death from COVID-19.
If you have any concerns about the link between COVID-19 vaccinations and cancer, you should talk to your doctor. They can help you assess your individual risk and make the best decision for you.
THIP Media has fact-checked claims around vaccine, such as, covid vaccines are being sprayed through chemtrails.
Disclaimer: Medical Science is an ever evolving field. We strive to keep this page updated. In case you notice any discrepancy in the content, please inform us at [email protected]. You can futher read our Correction Policy here. Never disregard professional medical advice or delay seeking medical treatment because of something you have read on or accessed through this website or it's social media channels. Read our Full Disclaimer Here for further information.