Consuming holy basil does not prevent malaria. Malaria requires medical treatment and preventive measures. Holy basil's effectiveness against malaria lacks scientific evidence. Relying solely on holy basil for malaria prevention is dangerous. Consult a healthcare professional if you suspect malaria. Use mosquito nets, repellents, and protective clothing to reduce malaria risk.
Quick Take
A social media post claims that a person who consumes 2 leaves of holy basil each day would never get Malaria. We fact-checked and found this claim to be False.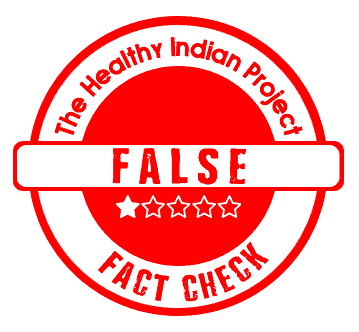 The Claim
A section of a Facebook post when translated from Hindi to English reads, " Malaria never occurs in those who consume two leaves of Holy basil daily. Tulsi (Holy basil) should not be chewed. Rather, small pieces should be broken and swallowed with water."
Fact Check
What is Malaria?
Malaria is a potentially life-threatening infectious disease caused by parasites of the Plasmodium genus. It is primarily transmitted to humans through the bite of infected female Anopheles mosquitoes. Malaria is a significant global health concern, particularly in tropical and subtropical regions. During the rainy season, there is humidity in the air, which is a good environment for mosquito breeding. Once there is a diagnosis of malaria, the appropriate antimalarial treatment must begin as soon as possible. It is most often characterised by fever. Chest pain, headache, muscular pains, nausea, and vomiting are additional frequent symptoms. Malaria patients can also exhibit diarrhoea, and abdominal pain occasionally.
Does one who eats holy basil never get Malaria?
No, eating holy basil does not guarantee that you will never get malaria. Malaria is a serious mosquito-borne disease that requires proper medical treatment and preventive measures. While holy basil has been used in traditional medicine for its potential health benefits, including its antimicrobial properties, it is not a substitute for proven methods of malaria prevention as there is no conclusive scientific evidence to support its effectiveness as a preventive measure or cure for malaria. Remember, it is primarily transmitted through the bite of infected mosquitoes, which cannot be prevented by consuming these leaves.
General Physician Dr. Atul Vashishta further confirms this by stating, "No. Malaria prevention primarily relies on various strategies and interventions related to mosquito control and personal protection, as well as, in some cases, antimalarial medications. While having a healthy diet is important for overall health and can support your immune system, diet alone is not a reliable or sufficient method for preventing malaria. Holy basil may have potential health benefits and can be a part of a healthy diet, it should not be considered a sole or primary means of preventing malaria. it cannot be ascertained for use as an antimalarial drug or prevention as there are no research papers that base this remedy yet. It's important to rely on proven and recommended methods for malaria prevention if you are in an area where the disease is prevalent or are at risk of exposure. If you have malaria prevention concerns, consult a healthcare professional for guidance and appropriate interventions."
Relying solely on holy basil for malaria prevention can be dangerous and could lead to delayed diagnosis and treatment, potentially increasing the severity of the disease. It is crucial to consult a healthcare professional for proper diagnosis and treatment if you suspect malaria.
Preventive measures like using mosquito nets, insect repellents, and wearing protective clothing are more effective in reducing the risk of contracting malaria. Additionally, many vaccines against malaria are currently being developed. The World Health Organization strongly recommends that children in sub-Saharan Africa and other regions with moderate to high P. falciparum malaria transmission use the RTS,S /AS01 (RTS,S) malaria vaccine.
Disclaimer: Medical Science is an ever evolving field. We strive to keep this page updated. In case you notice any discrepancy in the content, please inform us at [email protected]. You can futher read our Correction Policy here. Never disregard professional medical advice or delay seeking medical treatment because of something you have read on or accessed through this website or it's social media channels. Read our Full Disclaimer Here for further information.