Can eye sight be improved with the help of supplements containing ocean creatures?
No. Supplements can help preventing further degeneration but cannot cure or improve the eye condition. Also, it is important to consult an ophthalmologist for any eye-related problems.
Quick Take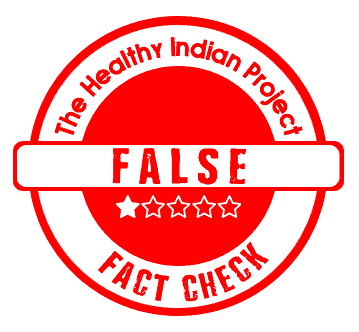 A video on social media claims an ocean creature cures eye degeneration. The video shows the image of an ocean creature that seems like a zebrafish. We fact-checked and found the claim to be False. We researched and found that the video is promoting an eye supplement named Ocuprime. Also, the available research does not confirm whether zebrafish cures eye degeneration.
The Claim
A video on social media claims that an ocean creature cures all eye degeneration problems. The video shows an image that seems like a zebrafish.
Fact Check
Is the claim made in the video correct?
It does not seem so. The video seems bogus because it uses phrases like 'award-winning doctor reveals a natural way to restore vision' and 'an ocean creature has a cure to all eye degeneration problems'. We could not find any evidence that sheds some information on this doctor. Also, the video does not name the referred ocean creature. To us, it seems like a zebrafish.
Besides this, the claimed video is published on TheHealthyZonee.com, which redirected us to another website TryOcuprime.com. There is no information available on the website selling Ocuprime supplements that can show how these tablets are related to zebrafish.
We spoke with Dr Aftab Alam, Ophthalmologist about the effectiveness of supplements like Ocuprime in curing all types of eye degeneration. To this, he said, "Supplements may help in preventing or slowing down macular degeneration but it doesn't 'cure' the same. We recommend supplements in the treatment only if the patient is old and not taking a proper diet". He further said, "medical conditions affecting eyes must be treated only under the guidance of an experienced ophthalmologist/optometrist. People must not solely rely on dietary supplements". It is not the first time THIP MEDIA has found such a social media post with a bogus claim that has redirected us to a website selling supplements.
In the past, we have previously fact-checked a similar case selling Insulux supplements for diabetes control.
Can an ocean creature cure all eye degeneration problems?
It does not seem so. No scientific evidence confirms an ocean creature, which seems like zebrafish can cure all eye degeneration problems. The available evidence only shows zebrafish eyes have regenerative power that restores their vision. Researchers are trying to understand this power and see if it can treat eye degeneration in humans. However, a conclusive outcome has yet to be achieved so far.
What causes eye degeneration?
Eye degeneration, such as refractive errors, macular degeneration, cataract, diabetic retinopathy, glaucoma, amblyopia, and strabismus, can occur due to heredity, disease or illness, lifestyle, environmental, occupational, and accidental damage. No evidence confirms these medical conditions can be cured by eating supplements only.
Disclaimer: Medical Science is an ever evolving field. We strive to keep this page updated. In case you notice any discrepancy in the content, please inform us at [email protected]. You can futher read our Correction Policy here. Never disregard professional medical advice or delay seeking medical treatment because of something you have read on or accessed through this website or it's social media channels. Read our Full Disclaimer Here for further information.