Does the risk of cancer increases with drinking water from bottled water left in a car?
Not exactly. There is no scientific evidence that proves that dioxin is present in plastic water bottles. Hence, there is no possibility of dioxin leaching out of the plastic bottle if a water bottle is left in the car.
Quick Take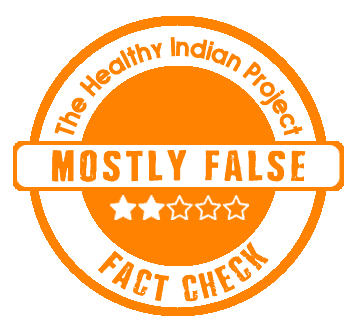 A social media post claims drinking bottled water left in your car can cause cancer. We fact-checked and found this claim to be Mostly False.
The Claim
A Facebook post is shared with the caption, "PLEASE BE CAREFUL & DO NOT DRINK BOTTLED WATER THAT HAS BEEN LEFT IN A CAR!" It displays an image that reads, "The heat reacts with the chemicals in the plastic of the bottle which releases dioxin into the water. Dioxin is a chemical found in plastic which causes cancer and is highly poisonous to our bodies."
Fact- Check
How is the regulation of bottled water done?
The Food and Drug Administration (FDA) has set the standards for bottled water. They require manufacturers to process and transport bottled water under sanitary conditions. There are standards to ensure the safe parameters of the water. Therefore, in the majority of cases, bottled water is safe to drink. In case of a sporadic event, however, bottled water recalls occur due to contamination.
In India, the Bureau of Indian Standards has formulated Indian Standards for packaged drinking water. There is an IS 14543 standard for Packaged Drinking Water (PDW) and IS 13428 for Packaged Natural Mineral Water (PNMW). These specify the quality parameters for the respective water sold in packaged form.
Does drinking water from plastic water bottles cause cancer due to dioxin?
Not exactly. There is a lack of scientific evidence to prove that if a person drinks water from plastic bottles, that person is more likely to get cancer. Various researchers have proven this claim otherwise.
Dioxin is indeed hazardous to health because of its highly toxic potential, but there is no proof that plastic bottles used for drinking water contain dioxin. The main sources of dioxin contamination are manufacturing processes, such as chlorine bleaching, smelting, the manufacturing of herbicides and pesticides and uncontrolled waste incinerators. Dioxin is also present in some soils, sediments and food, such as meat, feat dairy products, shellfish, etc.
While researching about other potential contaminants, drinking water from bottled water, if left in the car, wasn't found to be one. The John Hopkins Bloomberg School of Public Health has clarified this by stating, "There are no dioxins in plastics."
Also, Cancer Council cleared this myth and stated that "There is no good scientific evidence to support these claims. There is no dioxin present in the plastic of water bottles at all. Water in plastic bottles should be safe to drink, and no less than the water in metal bottles or any other type of container." Cancer Research UK has also stated that drinking from plastic bottles and using plastic containers and bags to store food do not cause cancer. 
However, a study done on laboratory animals indicate an association between plastic bottles and cancer due to the presence of BPA (Bisphenol A). BPA has the potential to mimic estrogen and can contribute to cancer progression and development. However, this study needs human studies to prove this, and the results vary as per the types of bottles.
In conclusion, at present, scant studies are there, and further research is needed to study the effects of plastic water bottles and cancer. 
THIP Media has already fact-checked a claim that stated that drinking bottled water is harmful.
Disclaimer: Medical Science is an ever evolving field. We strive to keep this page updated. In case you notice any discrepancy in the content, please inform us at [email protected]. You can futher read our Correction Policy here. Never disregard professional medical advice or delay seeking medical treatment because of something you have read on or accessed through this website or it's social media channels. Read our Full Disclaimer Here for further information.