Are influenza shots contaminated with formaldehyde and polysorbate 80?
The flu or the influenza vaccines are not contaminated with formaldehyde and polysorbate 80. There is a trace amount that is purposely added to the vaccines in order to either inactivate the virus or preserve the vaccines. The amount is so low as compared to what we encounter in day-to-day life in various agents and thus is safe to consume.
Quick Take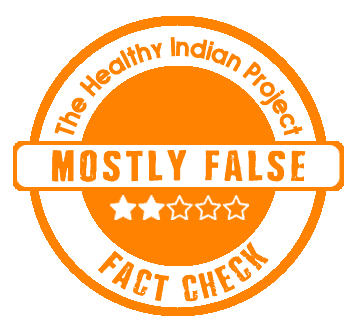 A social media post claims that the flu vaccines are contaminated with formaldehyde and polysorbate 80. We fact-checked and found this claim to be misleading and is, therefore, Mostly False.
The Claim
An Instagram post's graphic reads, "Elderberries are contaminated with formaldehyde and polysorbate 80. Just kidding … That's the flu shot."
The caption of the post reads, "Did I catch your attention? Good. Now go actually research what you put in your body 🙃." A screenshot of the post is given below:
Fact Check
What is formaldehyde?
It is a chemical compound that is made up of hydrogen, carbon, and oxygen. It is a colourless, flammable gas that has a distinct, strong smell. Formaldehyde is naturally produced as a part of cell metabolism in all life forms, including plants, animals, and bacteria. Interestingly, it also naturally occurs in the human body. It is used as a value-added product due to its preservative and antibacterial properties, such as in medicines, paints, household products, fertilizers, etc. Its exposure can irritate the skin, eyes, nose, and throat and is considered a human carcinogen if exposed for long duration.
What is polysorbate 80?
Polysorbate 80 is a hydrophilic surfactant (an agent that reduces the surface tension between different compounds) and emulsifier (an additive agent that helps in mixing two liquids). It is most commonly used in pharmaceuticals, foods, and cosmetics. The FDA's Code of Federal Regulations has approved its use in various food items, such as ice cream, pickles, etc., with certain specifications.
Are flu shots contaminated with formaldehyde and polysorbate 80?
Not exactly. The CDC lists 9 flu or influenza vaccines on its Vaccine Excipient Table. Out of these nine, five of them contain formaldehyde, four of them contain polysorbate 80 and only three of them have both of these present in them.
Also, the word "Contaminated" means to make it less pure or poisonous. However, this is not the case with these additives. These are purposely added in trace amounts. Polysorbate 80 is added to preserve the vaccines and make the manufacture, storage, and transport easier. While formaldehyde is added to inactivate viruses and detoxify the bacterial toxins so that they don't cause disease, as stated by the FDA.
On researching, we found that the Children's Hospital of Philadelphia states that a normal serving of ice cream (1/2 cup) might have about 170,000 micrograms* of polysorbate 80. Whereas the amount of polysorbate 80 is approx. 50 micrograms* (HPV) and 160 micrograms* (COVID-19), in each dose of these vaccines which is very small. This refers that vaccines do not contain polysorbate 80 at quantities that could possibly do any harm.
The Oxford Vaccines Group further clarifies this and states that "Compared with its use in foods, there is very little polysorbate 80 in vaccines."
Disclaimer: Medical Science is an ever evolving field. We strive to keep this page updated. In case you notice any discrepancy in the content, please inform us at [email protected]. You can futher read our Correction Policy here. Never disregard professional medical advice or delay seeking medical treatment because of something you have read on or accessed through this website or it's social media channels. Read our Full Disclaimer Here for further information.