Can Ultrasonic Body Contouring Clip help to reduce the weight in four weeks?
The claimed application of ultrasonic therapy is also not justified by the product description. Therefore, it would be risky to trust the authenticity of the post and the promoted item.
Quick Take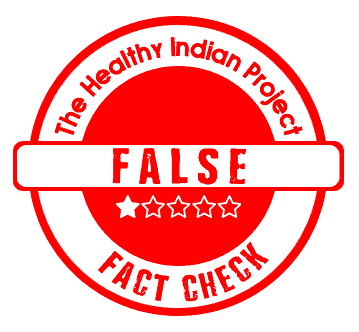 According to a Facebook post, a portable ultrasonic body sculpting tool could help people lose weight in just four weeks. We analyzed the claim and discovered that it was False.
The Claim
A Facebook post titled, "ultrasound body contouring clip" asserts that an at-home device employing ultrasound cavitation therapy could reduce weight in just 4 weeks.
Fact Check
Can a product like the ultrasonic body sculpting clip help anyone lose weight in four weeks?
No, it is crucial to stress that the post's reliability is questionable. It appears that the post is advocating a weight-loss product that may be used at home. Although it mentions the device's operating and usage guidelines, it is unclear how the product applies ultrasonic cavitation therapy. In addition, it takes 6 to 12 weeks to see the full effects of clinical ultrasonic therapy. As a result, the information included with the product does not fully support the effectiveness of the clip in contrast to the clinical visits.
Furthermore, the safety precautions, side effects, or other contraindications are not mentioned. This casts suspicion on the product's efficacy and safety. As a result, we conclude that the post and product are untrustworthy. A screenshot of the product that is being suggested can be found below.
How exactly does the ultrasonic cavitation therapy work?
Ultrasonic cavitation, a non-invasive procedure, breaks down the fat cells using ultrasound technology. Ultrasound waves are used in the approach. These deeply pierce the skin's surface layers. This leads to the production of localized disruptive vibrations. As a result, fat cells separate from one another and are forced out of the skin layers. It is important to emphasize that this fat cell lysis and dissolution process requires time.
The therapy works best for those who are in good health, don't smoke, and have realistic expectations. The stomach, hips, face, neck, upper arms, and thighs are among the target areas. Although it is a low-risk procedure, redness, bruising, and pains are possible side effects.
Is ultrasonic cavitation a permanent solution to weight loss?
No, not really. First off, maintaining the outcomes of this treatment requires an aerobic exercise program and a good diet. Therefore, a sedentary lifestyle may result in the return of fat deposits to previously treated areas. It should be emphasized that, according to the research, reduced calorie diets, exercise, and ultrasound cavitation all contribute to a reduction in BMI, WHR, and skin fold thickness, especially in postmenopausal women. Additionally,, ultrasonic cavitation therapy combined with exercise is better for people with fatty livers.
Disclaimer: Medical Science is an ever evolving field. We strive to keep this page updated. In case you notice any discrepancy in the content, please inform us at [email protected]. You can futher read our Correction Policy here. Never disregard professional medical advice or delay seeking medical treatment because of something you have read on or accessed through this website or it's social media channels. Read our Full Disclaimer Here for further information.