Can you treat anxiety with vitamin D and magnesium supplements?
No, not for now. Although research on the benefits of magnesium and vitamin D supplements on anxiety and depression is ongoing, these supplements are typically used as part of a holistic care strategy that also includes psychotherapy and the prescribed medication. Always see your doctor for guidance before making any decisions on how to manage your anxiety or depression.

Quick Take
On social media, a lot of posts claim that vitamin D and magnesium supplements may effectively cure the symptoms of anxiety. However, after conducting a fact-check, we have determined that the claim is mostly false.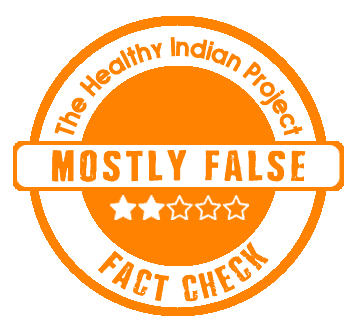 The Claim
According to several circulating posts, the administration of vitamin D and magnesium nutritional supplements may have potential benefits in treating symptoms of anxiety.
Notably, social media users have earlier linked anxiety and its treatments to consuming salt, rubbing Vicks VapoRub on neck, eating bananas and consuming Vitamin B 12 supplements – all of which we had fact checked.
Fact Check
Is 'depression' different from 'anxiety' or both are related to each other?
Anxiety and depression are common mental health conditions that can have a significant impact on individuals. These conditions are complex and involve emotional, cognitive, and physiological factors, leading to a wide range of symptoms and challenges. Anxiety is often characterized by excessive worry, fear, and heightened physiological responses to stress. Whereas depression is marked by persistent feelings of sadness, hopelessness, and a loss of interest or pleasure in activities. Both disorders can negatively affect daily functioning, decrease quality of life, and, in severe cases, lead to life-threatening consequences. Understanding the nature of anxiety and depression is crucial for developing effective strategies for prevention and treatment.
These are prevalent conditions that affect a significant number of individuals worldwide. Although the exact causes of these conditions are not known, certain triggers and risk factors have been identified. These include imbalances in neurotransmitters like serotonin and norepinephrine and genetic predisposition. Traumatic experiences, chronic stress, environmental stressors, comorbidity between anxiety and depression, and lifestyle factors such as diet and exercise are other factors. Providing comprehensive care and support to patients is crucial, as they can have a profound impact on their daily lives and overall well-being.
Do vitamin D and magnesium supplements have the potential to treat anxiety?
Not really. While there are some studies that show potential benefits of Vitamin D and Magnesium in reducing anxiety, experts say that these can only act as a part of a comprehensive treatment plan.
Anxiety is a complex mental health condition that is typically treated with medications and therapy. However, there has been increasing interest in the potential benefits of vitamin D and magnesium for addressing the condition. Magnesium is essential for regulating various bodily processes, including protein synthesis, muscle and nerve function, and mood-related neurotransmitters. Low magnesium levels have been linked to depression, reduced dopamine levels, anxiety, attention deficit hyperactivity disorder (ADHD), fatigue, irritability, and tension. Incorporating magnesium into the diet may improve sleep quality, hydration, and muscle growth, which are closely linked to mental health, particularly anxiety and depression symptoms.
On the other hand, vitamin D has properties that may impact the brain tissues involved in depression and anxiety. These primarily include immunomodulatory, neuroprotective, and neurotrophic characteristics of vitamin D. In addition, low vitamin D levels are associated with an increase in the symptoms of both depression and anxiety. However, the precise cause-and-effect relationship that exists between vitamin D and these conditions is not entirely clear in the literature.
Please be aware that, despite the possible benefits, there is no substantial scientific evidence to support the use of magnesium and vitamin D supplements as stand-alone therapies for anxiety. The fact that they are frequently incorporated into comprehensive treatment plans should be emphasised in the studies examining their effects on anxiety. Given the incidence of magnesium and vitamin D deficiency, the ideal dosage may vary, and healthcare professionals can perform tests to identify it.
We consulted Dr Sameer Kalani, Senior Consultant Psychiatrist and Head of Mental Health and Behavioural Sciences at Fortis Memorial and Research Institute in Gurugram, regarding the claim. He explained, "There have been studies exploring the potential impact of these supplements on anxiety and depression. As of today, they are typically used as part of a comprehensive treatment plan that includes psychological therapy and prescribed medication. It is not right to pick out one supplement as a sole treatment methodology for anxiety. It is important to seek guidance from a healthcare professional before making any decisions regarding the treatment of anxiety and depression."
While there are some research pointing that high dosage of Vitamin D can be helpful in treating anxiety, self-medication is always dangerous. Uncontrolled usage of Vitamin D can lead to Vitamin D toxicity in the body which is linked to nausea and vomiting, kidney problems etc. Though rare but overdose of magnesium can also have harmful effects, especially if you have other underlying health conditions. Excess magnesium can lead to irregular heartbeat, low blood pressure, confusion, slowed breathing etc.
How can individuals seek support for their anxiety and depression from experts?
The management of anxiety and depression requires a comprehensive approach that combines various strategies such as psychotherapy, medication, lifestyle changes, and social support. Cognitive-behavioural therapy (CBT) is an effective form of psychotherapy that focuses on reshaping negative thought patterns and behaviours. Antidepressant medications, specifically selective serotonin reuptake inhibitors (SSRIs), are commonly prescribed for depression and sometimes for anxiety. Incorporating regular exercise and improving dietary habits can be helpful in managing anxiety symptoms. However, it is important to note that no specific food item, including salt or bananas, can solely alleviate anxiety symptoms. Mindfulness-based interventions have shown promise for reducing symptoms. Having a strong social support network, including friends and family, is crucial to managing these conditions. Teletherapy is also becoming increasingly popular as a convenient and effective mode of therapy delivery. Regular assessment and monitoring are essential for tracking progress and adjusting treatment strategies as needed.
We had earlier discussed about the role of therapy and other treatment methodologies for dealing with excess anxiety levels. Furthermore, we had an insightful discussion with Dr Manisha Gaur, Clinical Psychologist and Counselor on anxiety disorders among teens and how parents play a crucial role in alleviating the same.
Disclaimer: Medical Science is an ever evolving field. We strive to keep this page updated. In case you notice any discrepancy in the content, please inform us at [email protected]. You can futher read our Correction Policy here. Never disregard professional medical advice or delay seeking medical treatment because of something you have read on or accessed through this website or it's social media channels. Read our Full Disclaimer Here for further information.