Does eating salt relieve anxiety?
No. Salt is a significant risk factor for cardiovascular disease, which is linked to anxiety. Furthermore, salt contains sodium rather than magnesium, which might aid with anxiety disorders.
Quick Take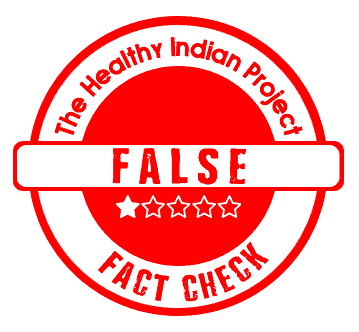 According to an Instagram post, salt consumption reduces anxiety. We checked the claim. According to our findings, the claim is False.
The Claim
An Instagram post with the caption "Did you know?" claims that putting salt on the tongue can help distract from anxiety and ground one by engaging their senses.
Fact Check
What is anxiety?
Anxiety is a person's overall reaction to a threat or danger. Each anxiety experience includes a perception of danger, thoughts about harm, and a physiological alarm and activation process. The most common of these disorders are panic disorders, phobias, generalized anxiety disorders, and OCDS. These conditions typically affect one's mood, thought process, behavior, and physiological activities. And the main symptoms include restlessness, feeling tense, easily fatigued, difficulty concentrating or going blank, muscle tension, and irritability.
Is it possible to get rid of anxiety disorders by taking common salt?
No. There is no substantial evidence. It should be noted that cardiovascular disease is closely linked to a variety of neuropsychiatric disorders. These conditions include PTSD, depression, and anxiety disorders. It should also be noted that excessive salt consumption is widely recognized as a dietary risk factor for cardiovascular disease. This is because salt has been linked to a notable increase in anxiety. Therefore, these anxiety-salt interactions are thought to play a role in the close relationship between neuropsychiatric diseases and cardiovascular disease.
Anxiety disorders and depression, on the other hand, are associated with electrolyte inadequacies. Furthermore, some foods are thought to play an important role in anxiety reduction. Thus, we discovered in our analysis that dietary magnesium intake is slightly negatively correlated with anxiety. Clinical evidence suggests that magnesium supplementation may have a relaxing effect. This is because magnesium inhibits NMDA receptors. As a result, this blockage may help reduce nervous stimulation. However, this correlation requires more evidence. Furthermore, salt contains a lot of sodium, which is necessary for fluid balance, nerve health, nutrient absorption, and muscle function, but too much salt consumption may not reduce anxiety.
We asked Psychologist Dr. Manisha Gaur, if salt consumption could help relieve anxiety. She cautioned that, "Anxiety disorders could cause people to overindulge in salty, fatty foods." She explained that this could be more detrimental than beneficial because the recurrent pattern of overeating could lead to obesity, hypertension, diabetes, and even cardiac ailments. Thus, in order to manage anxiety, one should seek psychiatric advice.
How anxiety disorders are managed?
The two primary treatments for anxiety disorders are psychotherapy and medication. A combination of the two may be most effective for anxiety relief. Please keep in mind that management varies from person to person. Psychotherapy, also known as psychological counseling, implies working with a therapist to reduce its symptoms. It has the potential to be an effective treatment for anxiety. The most beneficial type of psychotherapy is cognitive behavioral therapy (CBT). Additionally, depending on the type of anxiety disorder, the psychiatrist may prescribe various medications to relieve symptoms.
THIP MEDIA TAKE: Salt is high in sodium. Sodium is an essential nutrient that the body requires for a variety of vital functions. However, most health organizations recommend that healthy adults limit their intake of sodium. Furthermore, sodium may trigger anxiety rather than alleviate it. Further, it can cause hypertension. As a result, we conclude that salt consumption does not reduce anxiety. Hence, the assertion is false.
Disclaimer: Medical Science is an ever evolving field. We strive to keep this page updated. In case you notice any discrepancy in the content, please inform us at [email protected]. You can futher read our Correction Policy here. Never disregard professional medical advice or delay seeking medical treatment because of something you have read on or accessed through this website or it's social media channels. Read our Full Disclaimer Here for further information.