Quick Take
A social media post claims that cooper bracelets have been significantly shown to reduce blood sugar levels and treat diabetes. We fact-checked and found this claim to be Mostly False.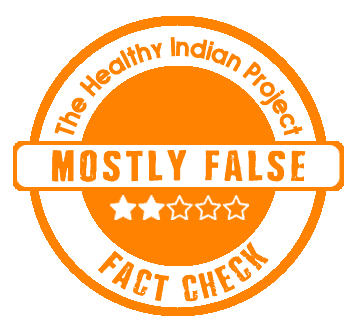 The Claim
A Facebook post with the caption, "I am a diabetic and currently using the CopperHeal™ . It has been shown to significantly reduce my blood sugar levels!" claims that wearing a copper bracelet can treat diabetes.
Fact Check
Can diabetes be cured by wearing a copper bracelet?
No, wearing a copper bracelet cannot cure diabetes. There is no scientific evidence to support the claim that copper bracelets or any other type of jewelry can cure diabetes. Diabetes is a chronic condition that requires ongoing management, including medication, lifestyle changes, and regular medical care.
Dr. Ritesh Bansal, founder and Senior Consultant Diabetologist at Delhi-based Saroj Diabetes & Research Center, states that "Diabetes is a metabolic disease, but diabetics fall easy prey to shortcuts which make them run away from medicine and thus affecting their health. So wearing a copper bracelet will not help in controlling diabetes."
In fact, it's never been proven that copper can be absorbed through the skin by wearing a bracelet. Research has shown that excessive copper can result in poisoning and other health problems.
While copper is an essential nutrient that the body needs in small amounts, there is no evidence to suggest that wearing a copper bracelet can improve blood sugar and control or cure diabetes. However, there have been studies which suggest that copper ions play a role in the pathogenesis of Type 2 diabetes.
Dr. Ayush Chandra, Consultant Diabetologist and Founder of Nivaran Health, Delhi NCR, also sheds light on this by stating, " No, it's impossible to treat diabetes by wearing copper or any sort of jewellery or ornament. There is no evidence or paper published for the same. Elements like Copper, along with all the major nutrients, are required in diet or can be taken as a supplement as diabetic already has a restricted diet. Copper is useful as a disinfectant of fluids and has antibacterial and antifungal properties. For people suffering from diabetes, the consumption of nutrients, such as magnesium and Vitamin B12, is vital."
Nutritionist Dr. Avni Kaul comments on this by stating," Diabetes cannot be cured. It is a progressive disease. However, it can be managed and controlled with diet and lifestyle."
Why is seeking the right treatment essential in managing diabetes?
Not seeking the right treatment for diabetes can be very dangerous because diabetes is a chronic condition that affects how your body regulates glucose (sugar) in your blood. If left uncontrolled, diabetes can lead to a range of serious health complications, such as diabetic ketoacidosis, neuropathic complications, delayed healing, high risk of infections, diabetic retinopathy (damage of blood vessels in the eyes, which can cause vision loss), and cardiac complications among others. Therefore, it is important for individuals with diabetes to seek medical advice from qualified healthcare professionals and follow recommended treatments to manage their condition effectively.
Disclaimer: Medical Science is an ever evolving field. We strive to keep this page updated. In case you notice any discrepancy in the content, please inform us at [email protected]. You can futher read our Correction Policy here. Never disregard professional medical advice or delay seeking medical treatment because of something you have read on or accessed through this website or it's social media channels. Read our Full Disclaimer Here for further information.