Quick Take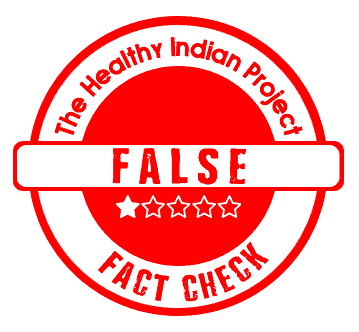 A social media post claims that baking soda can cure Cancer. We fact checked and found the claim to be False.
The Claim
A Facebook post says, "In CANCER treatment, SODIUM BICARBONATE is the PERFECT MEDICINE." The post can be seen here and a screenshot is given below.
The post shows a video recording of a published article from the website The Garden Island titled "Baking Soda is strong medicine" that discusses baking soda as a potential Cancer treatment ingredient. The article discusses how baking soda can change pH of the blood and also how baking soda can increase Oxygen in body. The article explains that baking soda is a perfect medicine because it increases oxygen and Cancer cells do not like oxygen.
Fact Check
Can eating alkaline foods help cure Cancer?
No. There are lot of discussions on the effect of alkaline food and water on body including its ability to treat cancer. However, none has been proven medically. The blood maintains a stable pH of 7.4. This makes it slightly alkaline. Diet is not known to alter pH of the blood.
The confusion arises from the fact that cancer cells alter the environment around them to make it acidic. This fact has given rise to multiple theories about alkaline treatments. However, there is no conclusive evidence of alkaline diet being able to change acidic environment around cancer cells.
Can oxygen supply kill Cancer cells?
No. There is still no conclusive evidence regarding this.
The theory arises from the fact that some cancer cells and tumours learn to thrive without oxygen – a common requirement of all cells in human body. Many researchers believe that flooding the body with extra oxygen will make the cancer cells die. So far, there is no medical evidence for this theory.
A recent research evidence shows that giving high dosage of oxygen to a person triggers his immune system against tumours. However, the study was done on mice and oxygen was introduced through respiratory system. Though the study paves way for further research, it still doesn't prove a total cure for all types of Cancer.
We asked Dr. Sarthak Moharir, Radiation Oncologist whether excess oxygen in body kill cancer cells. To this, he said "High pressure oxygen is used as a therapeutic agent to cure certain side effects of radiation. This is called Hyperbaric Oxygen therapy. But there is no proof that excess oxygen will kill cancer cells. On the contrary, inhaling pure oxygen can depress the respiratory centres of the brain to prevent normal functioning."
Can baking soda treatment cure Cancer?
No. There is no evidence to suggest that baking soda or bicarbonate can cure Cancer.
There is some evidence that bicarbonate can slow down the growth of cancer cells. A research done in 2009 showed that when bicarbonate (baking soda) is directly injected into a mice, it reduced the pH of the tumour cells and inhibited the growth of metastatic breast cancer. This is not equal to a complete cure of cancer. At the end of research, researchers concluded, "…the dramatic effect of bicarbonate therapy on the formation of breast cancer metastases in this model system warrants further investigation." But this experiment has not yet been replicated on humans and is not an approved medical practice for cancer treatment.
We asked Dr Moharir why this study was not replicated on humans. In response, he explained "Injecting sodium bicarbonate in the body will cause serious side effects in the form of metabolic alkalosis. There is no proof that it kills cancer cells".
THIP Media Take: Cancer treatment is a highly researched area in medical science. However, so far, alkaline therapy, oxygen therapy or bicarbonate therapy have not been conclusively proven to be effective therapy.
Disclaimer: Medical Science is an ever evolving field. We strive to keep this page updated. In case you notice any discrepancy in the content, please inform us at [email protected]. You can futher read our Correction Policy here. Never disregard professional medical advice or delay seeking medical treatment because of something you have read on or accessed through this website or it's social media channels. Read our Full Disclaimer Here for further information.