Quick Take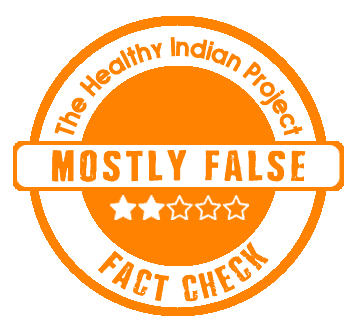 A Facebook user has published a message claiming that usage of masks is causing fungal lung infections in people. We have fact check on the possibility of the same and found that masks can cause fungal infections only if they are unclean or stored in unhygienic conditions. We find the message as Mostly False.
The Claim
A Facebook post claims that wearing masks is causing fungal lung infection in people. The post advises people to 'take a break' from masks. An archived version of the post can be seen here and a snapshot of the same is given below:
Fact Check
Who can get fungal infections in lungs?
As per the website of CDC, anyone can get fungal infection at any point of time. We come in contact with fungal spores everyday in our life and also inhale a lot of them. Most of the time, our body's immunity system is able to fight against these fungal spores and we do not face any problems. But for people with weak immunity system or with pre-existing diseases, the fungi may cause illness.
Can you get fungal infection from wearing masks?
In general, it is unlikely that you will get fungal infections due to wearing masks. Dr. Sanjeev Jain, Consultant – Pulmonologist, Fortis Hospital, Delhi, says, "Fungal infection cannot appear just because of type of mask.
Either the wearer should be in such environment or his primary physical condition may be such, making him vulnerable to such infection".
But, what if the masks are unhygienic (reused, unclean, touched with dirty hands)? Can they lead to fungal infection in lungs?
Dr. Jain feels it is very much possible. "If the mask is not maintained properly, fungus may grow over the mask leading to secondary lung infection," he says. With majority of Indians reusing masks or not maintaining a proper hygiene or disposal system when it comes to masks, chances of mask contamination is high. Dr. Jain says, "Dirty mask means that it is not clean and it is already contaminated. Wearing a dirty mask may lead any kind of secondary lung infection including fungal or may be a simple bacterial infection."
Is there any other chances of infection from wearing masks?
We have done a detailed article on how prolonged usage of masks can lead to certain breathing problems.
In addition, Dr. Joyeeta Chowdhury, MD. Assistant professor, Dermatology, NRS Medical College and Hospital says, "People are buying masks from footpaths. It's necessary to clean or sterilize these masks thoroughly. Else, there are chances of skin infections. There is also a fashion of wearing various printed masks. The cheap quality ink used for printing in these masks can also be a reason of skin infection. However, we have heard of only a couple of isolated such cases so far"
So, should I avoid wearing masks?
Absolutely, not. Masks are an essential item at the moment, especially if you are travelling in crowded areas or passing through public areas. However, it is necessary to maintain proper hygiene and keep your masks clean to avoid any infection.
Disclaimer: Medical Science is an ever evolving field. We strive to keep this page updated. In case you notice any discrepancy in the content, please inform us at [email protected]. You can futher read our Correction Policy here. Never disregard professional medical advice or delay seeking medical treatment because of something you have read on or accessed through this website or it's social media channels. Read our Full Disclaimer Here for further information.