Quick Take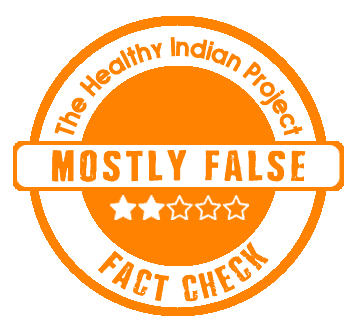 A social media post is circulating a post captioned 'Canola oil is toxic/poisonous. Avoid it."  We fact-checked and found this claim to be mostly False.
The Claim
A social media post is circulating an image which shows "How Canola Oil is made. It captioned it as Canola Oil is toxic/poisonous. Avoid it". A similar post can be seen here and a screenshot is attached below.
Fact- Check
How is Canola oil made?
According to the Canola Council of Canada, the procedure of making Canola oil is as follows-
Seed cleaning. Canola seeds are separated and cleaned to remove impurities such as plant stalks and dirt.
Seed conditioning and flaking: Seeds are pre-heated to about 95℉ (35℃), then "flaked" by roller mills to rupture the cell wall of the seed.
Seed cooking. The seed flakes are cooked by a series of steam-heated cookers. Typically, this heating process lasts 15–20 minutes at 176–221℉ (80°–105°C).
Pressing. Next, the cooked canola seed flakes are pressed in a series of screw presses or expellers. This action removes 50–60% of the oil from the flakes, leaving the rest to be extracted by other means.
Solvent extraction. The remaining seed flakes, containing 18–20% oil, are further broken down using a chemical called hexane to obtain the remainder of the oil.
Desolventizing. The hexane is then stripped from the canola meal by heating it a third time at 203–239℉ (95–115°C) through steam exposure.
Processing the oil. The extracted oil is refined by varying methods, such as steam distillation, exposure to phosphoric acid, and filtration through acid-activated clays.
The images circulating online showing the procedure of making Canola oil lacks scientific evidence.
Is Canola Oil poisonous?
No. It carries immense health benefits and it can't be categorised as poisonous. Canola oil contains the least amount of saturated fat compared to other cooking oils and is high in monounsaturated fat, which lowers low-density lipoprotein (LDL) cholesterol. And according to the Centers for Disease Control and Prevention, LDL cholesterol is a buildup of plaque in blood vessels that can increase the risk of heart attack.
According to the FoodData Central, it also contains Vitamin E and Vitamin K. Research also state that it has 21% linoleic acid — more commonly known as omega-6 fatty acid and 11% alpha-linolenic acid (ALA), a type of omega-3 fatty acid derived from plant sources.
It may contain small amount of transfats, which is harmful to health. Few animal studies indicate that it may negatively impact memory. Various studies also state that it may increase inflammation and impact cardiac function. But, further studies are needed to prove this. Till now, there is no scientific evidence that proves that Canola Oil is poisonous or toxic. Hence, the claim is mostly false.
Disclaimer: Medical Science is an ever evolving field. We strive to keep this page updated. In case you notice any discrepancy in the content, please inform us at [email protected]. You can futher read our Correction Policy here. Never disregard professional medical advice or delay seeking medical treatment because of something you have read on or accessed through this website or it's social media channels. Read our Full Disclaimer Here for further information.