Quick Take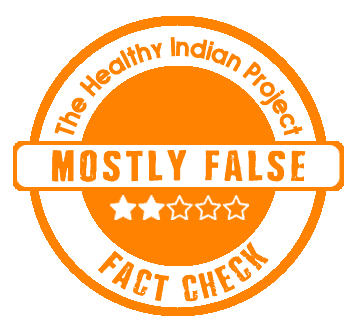 An Instagram post claims that Cancer is not a disease that is trying to kill rather it is body's way of storing toxins and healing itself. The post further claims that fasting can cure Cancer. We fact-checked and found that the claim is mostly false.
The Claim
The post titled "Cancer is trying to heal, not kill," claims, "A cancerous tumor is basically a bag the human body creates to collect toxins that are contaminating the bloodstream." The post further claims that, "Research healing Cancer by fasting."
The Instagram post can be seen here and a screenshot is given below.
Fact Check
What is Cancer?
Cancer is a disease in which some of the body's cells grow uncontrollably and spread to other parts of the body. When cells grow old or become damaged, they die, and new cells take their place. Sometimes this orderly process breaks down, and abnormal or damaged cells grow and multiply when they shouldn't.
Do Cancers tumours contain all toxins of the body?
No. Cancer tumours do not store toxins from the whole body. Moreover, not all types of Cancers have tumours associated with them.
The website of National Cancer Institute notes, "Many cancers form solid tumors, but cancers of the blood, such as leukemias, generally do not. Benign tumors do not spread into, or invade, nearby tissues. When removed, benign tumors usually don't grow back, whereas cancerous tumors sometimes do. Benign tumors can sometimes be quite large, however."
Can Cancer heal by fasting?
No. There is no direct evidence that fasting can heal Cancer.
However, some research findings have shown a positive correlation between Cancer treatment and prevention and fasting. A research done on mice has shown that a time restricted diet can help control obesity and type 2 diabetes. Since obesity is a contributing factor to Cancer, it can be derived that the process will have some impact in Cancer prevention too.
Another research has shown that periodic fasting mimicking diet has lead to reduced risk of Cancer.
Another research had shown that skin Cancer and breast Cancer patients who resorted to fasting along with regular Chemotherapy treatment have seen a slower progression of the disease.
Can biopsy spread Cancer or release toxins back in the body?
No. This is a complete myth.
A biopsy is often the first step of Cancer detection technique when doctors remove a sample of tissue from the tumour to analyze it. It does not cause any release of toxins in the body or spread the Cancer further.
Surgical Oncologist Dr. Naveen Sanchety says, "Biopsy is the first step to diagnose Cancer. It doesn't spread Cancer. This is one of the most common myth that people have related to Cancer treatments."
Disclaimer: Medical Science is an ever evolving field. We strive to keep this page updated. In case you notice any discrepancy in the content, please inform us at [email protected]. You can futher read our Correction Policy here. Never disregard professional medical advice or delay seeking medical treatment because of something you have read on or accessed through this website or it's social media channels. Read our Full Disclaimer Here for further information.