Is inhaling lavender a successful treatment for restless legs syndrome?
No, not exactly. Inhaling lavender extracts won't help with restless leg syndrome. Though massage, stretching, and vibration therapies can help control the condition, only prescribed medications can treat it. However, aromatherapy using essential oils can be a calming therapy but not a definitive one, particularly for RLS.


Quick Take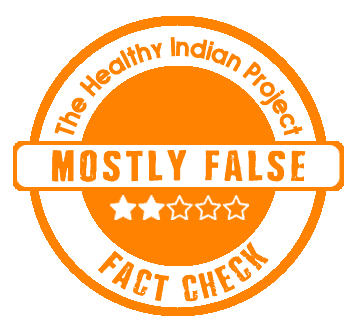 According to a social media post, treating restless leg syndrome might involve inhaling lavender extracts through a soap. We reviewed the claim and found that it is Mostly False.
The Claim
A popular social media post titled "Tips and Tricks" suggests that placing a bar of soap under your sheets before going to bed could treat restless leg syndrome.
Fact Check
What precisely is restless leg syndrome (RLS)?
A neuromuscular condition known as restless legs syndrome (RLS) is characterized by uncomfortable sensations in the extremities and a desire to move those limbs. Movement can ease these uncomfortable feelings, which typically happen at night or while you're at rest. Periodic limb movements of sleep, or RLS, are involuntary, jerking movements of the legs that occur while a person is sleeping. Peripheral neuropathy, dopaminergic system dysfunction, genetic factors, and an iron deficiency in a particular area of the brain have all been linked to RLS. In addition, RLS may be linked to kidney disease, iron deficiency, cardiac disease, type 2 diabetes, as well as neurological, rheumatological, and respiratory conditions.
Can restless leg syndrome be treated with lavender inhalation?
No, not exactly. It needs to be highlighted. One of the most widely used herbal aromas for a variety of disorders is lavender, which is a member of the Lamiaceae species of the spearmint family. The sedative, antidepressant, and muscle-relaxing properties of the active ingredients in lavender essential oil can be quickly absorbed through the skin, as can their favorable effects on sleep quality and well-being. They also have sedative, antidepressant, and muscular-relaxing properties. It has been used as a tried-and-true treatment for anxiety and depression as well as a mild pain reliever because it is a safe and non-toxic alternative.
It must be highlighted that RLS symptoms can only be reduced without the use of prescription medications. These mainly consist of massages, pneumatic compression devices, vibration therapy, and stretching exercises. Besides that, the safe and inexpensive addition of an essential oil, like lavender, to massage therapy may help relieve RLS symptoms, especially in dialysis patients. Our research, however, did not turn up any credible evidence that lavender-based aromatherapy is a reliable cure for RLS.
Why can't essential oils be employed to treat RLS?
Due to their safety, affordability, simplicity, and lack of negative side effects, complementary and alternative therapies are being used more frequently. Among the most widely used complementary and alternative therapies are massage therapy and aromatherapy. In aromatherapy, specific aromatic plant oils are used through inhalation or in conjunction with massage to help treat or prevent certain uncomfortable symptoms.
Essential oils, however, are not always bad. In fact, some patients may find them beneficial for alleviating the unpleasant RLS symptoms. They don't address the root cause of RLS, though, as they are topical treatments.
What is the best way to treat restless legs syndrome?
Pharmacologic therapy works well to treat RLS, which is a treatable condition. Please remember that the objectives of the therapy are to lessen or get rid of RLS symptoms and enhance daytime functioning, sleep, and quality of life. The choice of therapy is influenced by a variety of variables, such as the severity of the disease, the patient's age, comorbid conditions such as pain, depression, and anxiety, a history of impulse control disorders, adverse drug reactions, and personal preferences. 
Dopaminergic agents, opioids, benzodiazepines, alpha-2-delta voltage-gated calcium channel ligands, and iron therapy are among the main classes of medications used.
THIP MEDIA TAKE: Lavender extracts cannot be used to treat restless leg syndrome. In addition to being managed by massages, stretching, and vibration therapies, the condition can only be treated with pharmacological therapy. However, aromatherapy with essential oils is a relieving therapy rather than a curative one, particularly for RLS. Consequently, the assertion is mostly false. 
Disclaimer: Medical Science is an ever evolving field. We strive to keep this page updated. In case you notice any discrepancy in the content, please inform us at [email protected]. You can futher read our Correction Policy here. Never disregard professional medical advice or delay seeking medical treatment because of something you have read on or accessed through this website or it's social media channels. Read our Full Disclaimer Here for further information.