Quick Take
A social media post claims chikki (peanut burfi) reduces bad cholesterol. We fact-checked and found the claim to be Mostly False.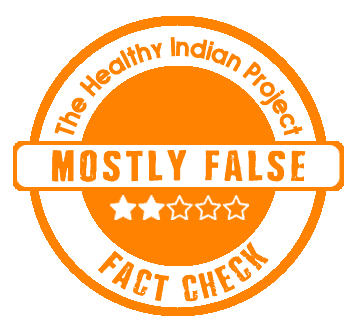 The Claim
A Facebook post claims eating chikki (peanut burfi) reduces bad cholesterol.
A screenshot of the post has been attached below:
Fact Check
What is chikki?
Chikki (peanut burfi) is a traditional Indian sweet snack. It primarily constitutes jaggery (a type of unrefined sugar) and nuts or seeds. People can prepare chikki by heating jaggery or sugar until it melts and then adding roasted nuts or seeds. They then spread the mixture onto a flat surface and let it cool and harden. Once it solidifies, they breaks it into small, bite-sized pieces that are easy to eat.
What is cholesterol?
Cholesterol is a type of fat essential for the body's normal functioning. But too much of it can cause health problems. High levels of LDL cholesterol, also known as "bad" cholesterol, can lead to a buildup of plaque in the arteries, which can increase the risk of heart disease and stroke. HDL cholesterol, on the other hand, is known as "good" cholesterol because it helps remove LDL cholesterol from the bloodstream and transport it to the liver for processing and elimination. Maintaining a healthy balance between LDL and HDL cholesterol levels is important for reducing the risk of cardiovascular disease. Regular cholesterol testing can help you monitor your cholesterol levels and take steps to lower them if necessary.
Does eating chikki (peanut burfi) reduce bad cholesterol?
Not exactly. Eating chikki (peanut burfi) does not reduce bad cholesterol. However, eating chikki once in a while will not negatively affect health.
Peanut chikki, or peanut burfi, is made primarily from peanuts and jaggery, and it is a popular snack in India. Peanuts contain healthy monounsaturated and polyunsaturated fats, as well as fiber and other nutrients. They are also a good source of protein. Consuming peanuts in moderation as part of a balanced diet may have some potential benefits for heart health, including reducing bad cholesterol levels.
The monounsaturated and polyunsaturated fats found in peanuts can help lower LDL cholesterol (often referred to as "bad" cholesterol) while increasing HDL cholesterol (known as "good" cholesterol). HDL cholesterol helps remove LDL cholesterol from the bloodstream, reducing the risk of heart disease.
However, it is important to note that while peanuts and peanut chikki can be a part of a heart-healthy diet, they should be consumed in moderation due to their calorie and fat content.
The same has been confirmed by Nutritionist Nidhi Sarin. She informs, "Including peanuts and jaggery in diet may help some people lower bad cholesterol or prevent heart diseases. But moderation is the key. Eating them in limited portions can contribute to good health. So basically you have to limit the saturated and trans fats like butter, cream, ghee, and red meat, and replace them with mono-saturated and poly-saturated fats like peanut butter, olives, and plant-based oils. It can help you to lower your LDL cholesterol."
Diet has often been associated been associated with maintaining normal cholesterol levels. We have previously debunked a drink of Guarana powder and orange can treat poor memory, fatigue, and high cholesterol.
What can be the dangers of trying to control bad cholesterol at home and not seeking medical advice?
Having bad cholesterol often does not cause symptoms and won't necessarily affect most people. However, excessive consumption may lead to weight gain, which can have negative effects on cholesterol levels and overall health.
Seeking medical advice is important when trying to control bad cholesterol at home to avoid inaccurate self-diagnosis, delayed or missed diagnosis of underlying conditions, ineffective management, increased cardiovascular risk, unmonitored side effects of medications, and missed opportunities for preventive care.
Disclaimer: Medical Science is an ever evolving field. We strive to keep this page updated. In case you notice any discrepancy in the content, please inform us at [email protected]. You can futher read our Correction Policy here. Never disregard professional medical advice or delay seeking medical treatment because of something you have read on or accessed through this website or it's social media channels. Read our Full Disclaimer Here for further information.