Is drinking urine a healthy practice?
Not really. Urine has antimicrobial properties and some historical evidence shows that it has been used for medicinal purposes. However, people should not drink urine because it can have toxins that can cause infection in the body such as diarrhea, nausea, disruption of electrolytes and vomiting.
Quick Take
A social media post claims that drinking one own's urine improves eyesight. We fact-checked and found the claim to be Mostly False.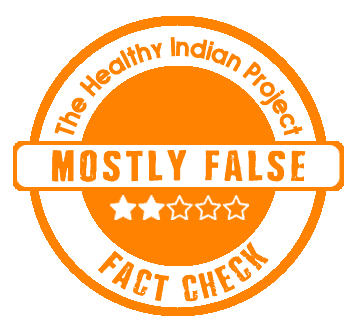 The Claim
A video on social media shows Dr Sebi claiming 'Dr Sebi Talks About Drinking his own URINE to heal his eyesight'.
In the video, Dr Sebi said that 'he fasted for a month, and when his urine was as clear as the water he decided to drink it. Days after this, his vision went dark. Five days later, he began to see again. He explains that he went blind because his body was breaking down inflammation, and as it crossed the eyes, he lost his vision'.
The on-screen caption informs that fasting for 29 days and then drinking urine for 6 days makes the urine electrical, not a toxic waste.
Fact Check
What is urine?
Urine is a waste product composed of fluid and other chemicals that the body doesn't need. Kidneys filter and remove excess water along with other waste products from the bloodstream. This waste is sent down to the bladder as urine.
A research paper published in 2015 informs that 91 to 96 per cent of urine has water. The rest contain salts, ammonia, and byproducts produced during various body processes. Another research published in 2010 informs urine forms in the bladder and exits the area through tubes called the urethra. This urethra contains bacteria. In general, these bacteria do not cause serious health issues, unless they have grown and spread in a larger area to inhibit normal metabolic functions. This paper also informs that these bacteria can contaminate urine as it exits the body.
Does drinking human urine improve eyesight?
Not exactly. No evidence confirms that the composition of urine improves eyesight. The claim in the video has been made by Dr Sebi who is widely known for various false cure claims. THIP MEDIA has previously fact-checked one of his claims that says 'diabetes can be cured with herbs in 90 days'. We also found that the video opened with Dr Sebi claiming 'I don't have a problem with my eyes, but I taught, I could read, I could see clear. But then one day I decided to do urine therapy'.
Evidence shows that urine is made up of urea, chloride, sodium, potassium, creatinine, and other dissolved ions, inorganic and organic compounds including proteins, hormones, and metabolites.
We also found a few research papers that have discussed nutrients essential to improve eye health. These include vitamin A, lutein, and zeaxanthin, omega-3 fatty acids, gamma-linolenic acid, vitamin C, vitamin E, and zinc.
The research papers hyperlinked in previous paragraphs nowhere show that the components of urine can improve eyesight.
We even consulted an ayurvedic expert, Dr Annusuiya Gohil on this topic. To this, she replied 'I have not heard anything like this. Ayurveda or modern medical practice does not support the outcome of the claimed video'.
Is drinking human urine good for health?
Not enough evidence. Evidence shows that the use of animals' urine to cure diseases is a folk remedy. Urine has been associated with treating asthma, arthritis, allergies, cancer, indigestion, migraines, and infertility. Even dramatic survival movies suggest urine is a good way to hydrate. However, it is not the case. 
Despite this evidence, science overwhelmingly continues to disagree claiming that urine is not a safe option as a treatment for various diseases. We could not find credible evidence supported by modern medicine that confirms urine is unhealthy to consume. Also, we found that the evidence hyperlinked in previous lines talks only about animal urine.
We also found that drinking urine can cause dehydration by excessively raising the levels of sodium. This can cause sweating due to excess release of salt and water from the body.
Besides this, urine can have toxins that can cause infection in the body. Dr Anthony Pizon, Chief of medical toxicology at the University of Pittsburg Medical Center informed Reuters via email urine has antimicrobial properties and that historical evidence shows some consumed urine for medicinal purposes. However, people should not drink urine for medicinal purposes. Drinking urine in small quantities might not possess any harm but in excess can cause diarrhea, nausea, disruption of electrolytes and vomiting.'
Pizon further informed that 'drinking urine can expose a person to chemicals and drugs consumed previously.' So, drinking it can interfere with the medication to affect any ongoing treatment.
Disclaimer: Medical Science is an ever evolving field. We strive to keep this page updated. In case you notice any discrepancy in the content, please inform us at [email protected]. You can futher read our Correction Policy here. Never disregard professional medical advice or delay seeking medical treatment because of something you have read on or accessed through this website or it's social media channels. Read our Full Disclaimer Here for further information.