Quick Take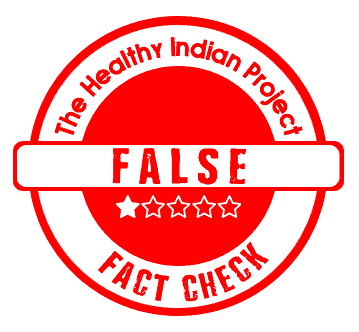 A social media post shows a warning by an American hospital claiming that mixing Motrin and Robitussin can induce heart attack among children. We fact-checked and found the claim to be False.
The Claim
A Facebook user shared a post by the U.S. Children's Medical Center that claimed, "Motrin and Robitussin don't mix'!!!!!". The post further claimed, "Doctors told her family that there have been quite a few children Madison's age that have died recently the same way that she did". The screenshot of the post is down-below:
Fact Check
Did the U.S. Children's Medical Center share the post on Facebook?
No. The U.S. Children's Medical Center has shared a post on Twitter claiming that the post about Motrin and Robitussin is incorrect.
Moreover, there is no official warning against the use of Motrin and Robitussin among children by any agency worldwide.
Can mixing Motrin and Robitussin induce a heart attack among children?
No. There is no scientific evidence that suggests mixing Motrin and Robitussin can cause heart attack among children.
Motrin is the most common non-steroidal anti-inflammatory drug (NSAID) named ibuprofen available over-the-counter to relieve pain and reduce fever.
The U.S. Food & Drug Administration (2015) report has shown that NSAIDs can increase the risk of a heart attack. However, the report also claims that it is less clear if the risk of heart attack is similar for all NSAIDs. A study has shown that ibuprofen can be prescribed to children aged ≥3 months. The Motrin website has discussed appropriate doses of medication for children and infants.
Robitussin is a brand for cold and cough medicines that manufactures medication for children as well. The medication contains two active ingredients named dextromethorphan and guaifenesin.
Dextromethorphan is an antitussive drug available over-the-counter to treat constant coughing. Likewise, Guaifenesin is a mucoactive drug available over-the-counter to relieve wet cough and chest congestion. Both Dextromethorphan and Guaifenesin are not directly associated with heart attacks but can cause heart conditions when mixed with other drugs. Less information is available on dextromethorphan and guaifenesin inducing heart attack among children.
The Robitussin website shows a label of Children's Robitussin Cough & Cold medicine containing a warning of consulting a doctor in case of the symptoms mentioned in the list.
Disclaimer: Medical Science is an ever evolving field. We strive to keep this page updated. In case you notice any discrepancy in the content, please inform us at [email protected]. You can futher read our Correction Policy here. Never disregard professional medical advice or delay seeking medical treatment because of something you have read on or accessed through this website or it's social media channels. Read our Full Disclaimer Here for further information.