Can applying Vicks Vaporub in ear cure ear pain?
No. Ear pain can happen due to multiple reason. Vicks Vaporub is meant to be an external ointment to give relief from cough. Applying inside ears is not a recommended usage of Vicks Vaporub. Rather it may end up making the condition worse.
Quick Take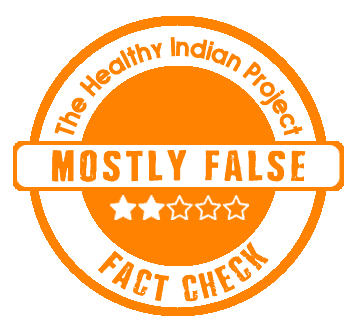 A number of blog posts on the internet claims that putting Vicks Vaporub in the ear will help reduce ear pain. We fact checked and found that the claim is Mostly False. Experts say it is also dangerous and can cause problems in hearing.
The Claim
"Do you want to know how to stop a throbbing ear? All that is required is to apply some of the ointment to a cotton ball and insert it into the opening," reads a blogpost. The blog further recommends to use this process as many times as required till the pain is completely gone.
Many such posts with similar claims are available on the internet and can be seen here and here. A screenshot is also given below.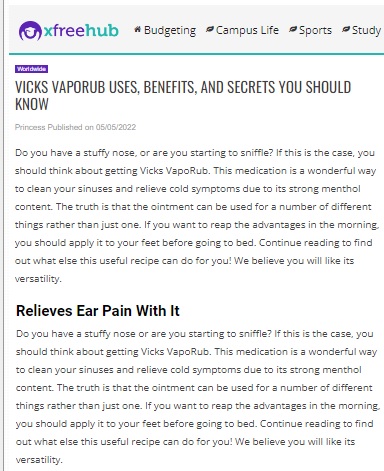 Fact Check
What is Vicks Vaporub?
Vicks Vaporub is a topical ointment that suppresses cough. It is available as a OTC product in most medicine shops. The company informs on its website that the product uses 'Eucalyptus Oil, Menthol, Camphor that provides relief from cold & cough' as its key ingredients. The recommended usage is to use it as a medicated vapour or rub on massage.
What are the various reasons for ear pain?
Ear pain (otalgia) can be caused by various reasons, such as blockage in the eustachian tube, ear infections, ear injuries, ear canal irritation, an object stuck in the ear or buildup of ear wax, a hole in the eardrum, Altitude pressure changes (barotrauma) etc. Sometimes, a person can experience earache due to referred pain, such as in cases of sinus infection, sore throat, tooth infection, Temporomandibular joint syndrome (TMJ), etc. Pain that begins inside the ear is known as primary otalgia, whereas pain that originates outside the ear is known as secondary otalgia.
Can Vicks Vaporub relieve ear pain?
No. There is no scientific evidence or research to back the claim. Application of Vicks Vaporub for earache is not recommended. While the company page mentions that the ointment can reduce 'body aches', the product is strictly listed for 'external application only'.
It must be noted that the Vicks camphor can temporarily relieve ear pain, thereby giving a false notion that the method is working; Vicks cannot treat the underlying reasons for ear pain, including any type of infection.
If used in excess, the cream can block the ear canal or may even get pushed inside the ear canal to block the eardrum, thereby affecting hearing. Many users have also recommended dabbing cotton in Vicks and putting it in the ear. The cotton pieces can shred and stay inside the ear canal. This can further result in bacterial infection and other complications.
ENT Specialist, Dr. Priyajeet Panigrahi, MBBS, DNB, MNAMS, states, "Vicks Vaporub contains 3 major ingredients camphor, eucalyptus oil and menthol, along with some minor ingredients like thymol, etc. Mainly, it is used as a cold and cough suppressant. It has very minimal analgesic properties. And menthol stimulates cold receptors, thus eliciting an increased sensation of nasal airflow without any change in airway resistance.
So putting Vicks inside the ear canal will give a cold sensation, thus reducing the pain temporarily. But this is no way equal to a cure. We need to be careful because if cotton fibres are left behind in ear canal then infection can take place."
Disclaimer: Medical Science is an ever evolving field. We strive to keep this page updated. In case you notice any discrepancy in the content, please inform us at [email protected]. You can futher read our Correction Policy here. Never disregard professional medical advice or delay seeking medical treatment because of something you have read on or accessed through this website or it's social media channels. Read our Full Disclaimer Here for further information.