Can multiple diseases be cured by drinking warm water?
While warm water may be helpful for those who are ill, its efficacy has perhaps been overstated. Additionally, there is insufficient evidence that consuming warm water alone could treat ailments.
Quick Take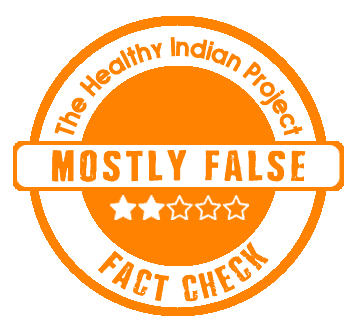 A widely popular social media post claims that drinking warm water will cure a long list of diseases. We fact checked and found that the claim is Mostly False.
The Claim
Social media posts titled Warm Water Therapy and Medical Alertness assert that a number of health issues, including diabetes, high blood pressure, epilepsy, and asthma, can be cured at "reasonable intervals" of 30 days to 4 months. There are numerous additional posts that are active on Facebook, Instagram and Pinterest besides these. It is noteworthy that the claim is credited to Dr. D. Mensah Asare. Who is advocating for the readers to only have four glasses of warm water in the morning and nothing else for an hour after that. The screenshot is shown below:
Fact Check
Who exactly is the intriguing Dr. D. Mensah Asare?
We looked up for 'Dr. D. Mensah Asare' on Google but were unable to locate any evidence of his existence. Furthermore, we were unable to locate a hospital that employed a physician with that name. However, a Google reverse image search of the photo that allegedly depicts the doctor finds that it is actually a Ghanaian financial administrator. The screenshot of the original post is shared below.
Can multiple diseases be cured by drinking warm water?
Not specifically. It is significant to remember that, after air, water is the most crucial component for maintaining human existence. According to Ayurveda, water is the source of all life. in particular, drinking water.
It should be highlighted that warm water induces a calming influence on the tense tissues. And, it relieves discomfort and agony. It could also be therapeutic for mild to moderate headaches. Therefore, warm water could be helpful in alleviating symptoms.
Additionally, Ayurveda promotes the idea of therapeutic water, also known as medicated water. It is a technique of medicine delivery that helps in the treatment and management of a number of health disorders. It can be used either as a primary medication or as a supplement to the main medication. The advantage is that the medicinal components are readily released and dispersed when medications are boiled with water.
We asked Dr. Pallav Prajapati, our Ayurvedic expert, whether warm water can treat all illnesses. He explained, "According to Ayurveda, diseases, and illnesses occur due to the imbalance of Vata, Pitta, or Kapha Dosha. So, their equilibrium helps boost immunity and digestion. Therefore, warm water can assist in immune system development and dosha equilibrium. However, moderation is the key. Do not over consume hot water if you are feeling hot or burned."
Is drinking warm water beneficial to health?
Yes, in a lot of ways. Water is essential for the proper control of many bodily functions, including respiration, digestion, assimilation, excretion, and even sustaining body temperature. Furthermore, each of them depends on how much and how frequently you drink water.
Warm water can aid in flu and the common cold. It might help with digestion and constipation. It also lessens anxiety and elevates the mood. In addition to being a good cleanser, it also promotes circulation. Please, be aware that drinking water that is too hot can damage your taste receptors, food tract, and mouth.
Dr Prajapati advised that, "Drinking lukewarm water can be beneficial for building immunity and preventing many diseases. However, it cannot treat all illnesses. People must avoid such a practice because drinking only warm water and not considering a proper treatment for an existing health condition will worsen one's health."
THIP MEDIA TAKE: We conclude that our survival depends on water. In order to analyze the importance of warm water for preserving health and treating illness, we made an effort to assess and evaluate the assertion. It is crucial to emphasize that warm therapy can provide symptomatic relief but cannot treat illnesses. As a result, we assess that the claim is mostly false.
Disclaimer: Medical Science is an ever evolving field. We strive to keep this page updated. In case you notice any discrepancy in the content, please inform us at [email protected]. You can futher read our Correction Policy here. Never disregard professional medical advice or delay seeking medical treatment because of something you have read on or accessed through this website or it's social media channels. Read our Full Disclaimer Here for further information.